Dienstag, 7. Juni 2016
Din A Testbild
Am Mittwoch, den 8. Juni ist war Mark Eins bei Olaf Zimmermanns 'Elektro Beats' im RADIO EINS zu Gast. Die vor 35 & 36 Jahren von uns produzierten und veröffentlichten DIN A TESTBILD-Alben wurden gerade auf Vinyl wiederveröffentlicht.
Dieses Radio-Interview kann man natürlich auch später auf der Website von RADIO EINS hören.
kdm, 15:31h
... link
Freitag, 11. Dezember 2015
Rainer Bloss (1946 – 2015)
Ein musikalischer Partner von Klaus Schulze während der Jahre 1982 bis '85 ist gestern gestorben: Rainer Bloss.
.
Rainer Bloss has died. With Klaus he had recorded two studio albums: AUDENTITY and DRIVE INN, plus an album with concert recordings from Poland '83: DZIEKUJE POLAND.
Also he had made a few solo albums, partly produced by KS: Ampsy, Drive Inn 2 and Drive Inn 3. (Note: Rainer has nothing to do with Schulze's album from 1981, TRANCEFER. Wikipedia is wrong now corrected).
Later he had worked with "Alphaville".
kdm, 16:36h
... link (2 Kommentare) ... comment
Mittwoch, 22. Juli 2015
It was so unbelievable
Yesterday evening Julia and I were listening to the radio again, "Kulturradio".

We heard a concert "live" from Hamburg, with a big band and a (classical trained) singer, who "features selections that highlight the classic music of Frank Sinatra."
It was absurd. Today, as a music lover I had to write a letter to the singer's management:

... By accident, on 21 July 2015 I've heard the Hamburg "live" concert with Mister Hampson on radio.

This singer Thomas Hampson is maybe/surely excellent in the "classical" field, ...but Sinatra? ...but Swing? ...but Jazz?

It was a disaster.
I wonder why the audience clapped hands instead of booing and throwing tomatoes. Maybe they were just happy to recognize the (well-known) evergreens?

This baritone had neither charme, coolness, nor a sense for swing; things that are NECESSARY if we speak about Sinatra and the songs he represents (and presented so wonderful). Also, Mister Hampson's singing sounded - not just once - off-key.

My wife and I, while we were listening, flabbergasted, we had the same opinion about this more than strange "Sinatra" concert: it's not serious, or? Maybe it's a joke? A silly parody? In parts we were laughing loud, when Hampson was so off-key, and off-Sinatra, and off-swing, and off-cool, and off-everything.

Someone had to tell him. Why not we, two listeners with four ears. With a love for music, many kinds of music.

Kind regards,
Klaus D. Mueller
kdm, 19:06h
... link (2 Kommentare) ... comment
Samstag, 31. Januar 2015
R.I.P.
The Froese tribute is now up at Perfect Sound Forever:
http://www.furious.com/perfect/edgarfroese.html
Mr. Schulze's words lead the article. Many thanks for your help with this! Please pass along my gratitude to Mr. Schulze also.
Cheers, Jason.
kdm, 10:18h
... link (2 Kommentare) ... comment
Donnerstag, 27. November 2014
Have you ever...
...asked yourself what happens in Klaus Schulze's head when he plays music? ...and what in your's when you listen? Then, watch these nearly five minutes (in English):
.
Less top-heavy is this touching explanation of (more or less 'classical') music.
kdm, 18:27h
... link
Freitag, 21. November 2014
Vor 40 Jahren:
.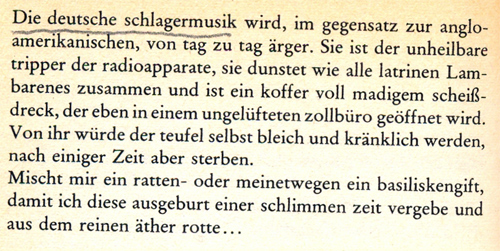 .
...notierte damals völlig zu Recht h.c. artmann. Ist's heute besser?
kdm, 16:44h
... link
Dienstag, 28. Oktober 2014
Roedelius (80)
Ich gratuliere!
.
Hier kann man nicht nur ein aktuelles sondern auch sehr entspanntes & schönes Interview mit meinem Freund Hans-Joachim Roedelius hören.
PS: Und hier auch, zwei Stunden in Olafs 'Elektro Beats'.
kdm, 19:56h
... link
Sonntag, 22. Juni 2014
'The Preacher' is gone
Horace Silver † 18. Juni 2014
... link
Sonntag, 15. Juni 2014
about my brother-in-law
Nachrichten von Julia:
"Dima hat angerufen, er ist gerade zurueck aus Moskau, wo er und seine Band ZORGE den Preis "Steppenwolf" (von Artemy Troitzkij) gewonnen haben, als DIE BESTE RUSSISCHE ROCK MUSIK 2014."
... link
Montag, 31. März 2014
half a century ago
Gerade lief im 'Kulturradio' der Song "I Believe to My Soul", gesungen von irgendeiner Lusche namens Donny Hathaway, der natürlich vom Ansager als gaaaanz toller Hecht angepriesen wird. Himmelhilf, so wenig Soul und so 'ne belanglose Stimme...
...hört man leider viel zu viel alltäglich im Radio.
Gleich mal das Original von Ray Charles aufgelegt, der mir 15jährigem Teenager vor über einem halben Jahrhundert beibrachte, was "Soul" ist.
... link (4 Kommentare) ... comment