Mittwoch, 25. Mai 2016
The KS Circle # 227
The June edition was just posted to our members. It contains this month:

- Long old interview about even older times
- What do you listen to?
- "polternder Blues-Rock" (das ehemalige Nachrichtenmagazin)
- Two very old photos
- Ein lieber Brief (German)
- Letters vs. mails
- About earlier times ("relax-sound")
kdm, 13:10h
... link (2 Kommentare) ... comment
Montag, 23. Mai 2016
impact
"Once you know how to push people's buttons, you can play them like a piano."
(...explained by Google's "Design Ethicist", a stage magician(!), 2016)
kdm, 16:35h
... link (0 Kommentare) ... comment
Samstag, 21. Mai 2016
Abermals & lang her
Hier wieder mal ein neuer Artikel über alte Zeiten. Wie so häufig & nicht nur im SPIEGEL ist nicht alles so ganz korrekt beschrieben (*). Ist ja auch schon lange her.
.
(*) Tangerine Dream mit KS am Schlagzeug spielten eben keinen "polternden Blues-Rock", wie all die vielen anderen Bands zu der Zeit. Der Schreiber hat offenbar T.D. damals - 1969 - nie gehört. Zu jung?
kdm, 14:14h
... link
Donnerstag, 5. Mai 2016
Berühmt...
... link
Montag, 2. Mai 2016
Eberhard spricht Deutsch und ist immer noch sehr freundlich
For non-Germans:
Eberhard Panne was the sound engineer of the Panne-Paulsen Studio, where KS has recorded five of his solo albums in the seventies (from Moondawn to "X").
Some days ago Ebbi (as KS liked to call him) has told me that he had given an interview recently and it can be seen in the net. I don't know why the announcer likes to speak English; Eberhard at least, he speaks fully in German. It's worth to listen to him from minute 22 on.
Again for the non-Germans, let me translate a very short part of Eberhard's memories:

"At the university (circa 1961) we students all laughed uproariously when we were told that synthesizers can do music. This will never work!
And then, 15 years later, exactly this did happen. Klaus Schulze was (January 1976) in my studio and he did exactly what the teachers had prophesied to us. And he did it in such a genial way... He had never - never! - taken a sound from the synthesizer as it came out of the tool, he was always changing it; he was working detailed on each and every sound, which took a lot of time, but it was worth it. He did it in his special way that I have not seen or heard ever again." . . . "For me, Klaus Schulze is the genius of the three." (Eberhard mentions also H. Grosskopf & M. Göttsching).

Look for and listen to Eberhard Panne who was forty years younger when KS started to work with him, ...and KS too.
kdm, 11:22h
... link
Samstag, 16. April 2016
Instead of KS ---> T.D. !
When they have heard of Klaus' serious sickness, Tangerine Dream agreed immediately to play instead in Stettin/Szczecin on the 9th of June. I'm sure that TD (and the Szczecin Filharmonia) will give more info in their websites. (Many thanks to Bianca and also to Georg for their generous help).
http://filharmonia.szczecin.pl/events/315-TANGERINE_DREAM__THE_QUANTUM_YEARS_IN_HONOUR_OF_EDGAR_FROESE__LAB_9
.
(19 April, 17:00)
Addendum, from the concert promoter in Poland:
Those of you, who would like to attend the concert: TANGERINE DREAM - THE QUANTUM YEARS - IN HONOUR OF EDGAR FROESE, are more than welcome. The tickets bought for the Klaus Schulze concert remain still valid.
Those of you, who prefer to return your tickets, please contact the Philharmonic ticket office. Returning tickets bought online should be done via the internet email: kasa@filharmonia.szczecin.pl. The refunds will be transferred to the bank account, from which the purchase was made.
PS:
see also in the 'Kommentar'
kdm, 20:21h
... link (3 Kommentare) ... comment
Mittwoch, 13. April 2016
The KS concert
Sad news:
The concert on 9th of June has to be cancelled because of medical reasons. The state of health will not improve in the foreseeable future. Klaus Schulze is in constant medical treatment.
... Which is, more or less, the translation from the (German written) medical certificate.
kdm, 14:31h
... link (6 Kommentare) ... comment
Mittwoch, 6. April 2016
The KS Story // Die Schulze-Geschichte
THE KS STORY are the memories from all the years I have worked with KS, in the studio, the office, or on tour, from the early era anno 1973 until the end of the millenium. A first version was and still is to read in the official KS website. There it's 18,500 words, the printed version has more than twice as much: 40,000 words. A few things were added meanwhile and recently. (Yes, I still work with KS).
.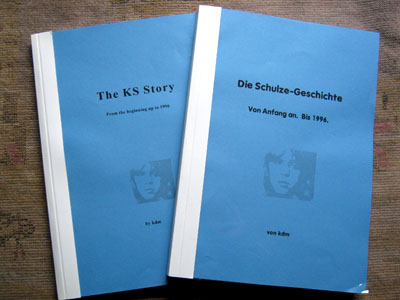 .
"Why should I lie in retrospection, when the simple truth was exciting enough?"
"...written for the lovers of the music of Klaus Schulze..."
.
The English version (about 6" x 9") has 152 pages, including also two handful of pics. Thermal binding. Hand crafted. Ask kdm for a copy & ways of payment: 30 € outside Germany.
.
...ich meine, die Realität war aufregend genug, da muss man nicht noch dick auftragen, also lügen.

Dieses kleine Buch ist für die Liebhaber der Musik von Klaus Schulze geschrieben, besonders natürlich für diejenigen, die Klaus' Werdegang und seine Musik seit vielen Jahren begleiten und schätzen und deshalb etwas mehr darüber wissen wollen.

Nun in 'normaler', handlicher Größe erhältlich: DIN A5 mit Thermo-Bindung. Echte Handarbeit.
.
Die deutsche Ausgabe hat 162 Seiten und auch viele Fotos, zum Teil andere als die englische; es wär' sonst zu langweilig für mich. Auch der Text ist keine schlichte 1:1-Übersetzung.
.
Bei
kdm
kann man's bestellen und bezahlen. Germany: 25 €, abroad: 30 € (p&p incl.) Send a mail or a letter.
kdm, 13:08h
... link (1 Kommentar) ... comment
Donnerstag, 31. März 2016
# 225
I had waited for an important information to put into the April editon of "The KS Circle". Therefore, this month's Circle comes a few days later as usual. But now it's posted to all subscribers. It contains:

- 40 years of Moondawn (review)
- 40 years of Moondawn (memories)
- 82 years old fan writes
- About the English written book 'The KS Story'
- Was hat Schulzes Musik, was andere nicht haben? (German)
- More reissues of classic KS albums
- A few Q & A
kdm, 10:15h
... link (1 Kommentar) ... comment
Donnerstag, 17. März 2016
Irgendwas ist eigentlich immer modern
And now for something compl...
.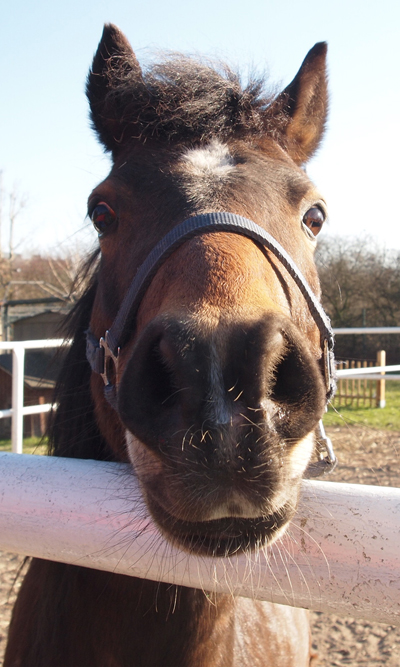 .

Seen today ...and photo taken.
kdm, 18:56h
... link (1 Kommentar) ... comment