Donnerstag, 22. Dezember 2016
(nicht nur wegen Weihnachten) Aus einem lesbaren Blog:
"... Meine Kinder waren ganz aufgelöst und fragten mich, warum die Oma Flaschen sammeln muß. Ich wußte keine Antwort darauf. Meine Tochter fragte sogar: "Den Flüchtlingen helfen wir doch auch. Warum muß denn die Omi Flaschen sammeln?"
(...) mitten unter uns, kurz vor Weihnachten, sammelt eine alte Frau eine Flasche aus dem Müll. Ich möchte, daß wir den Verfolgten helfen – aber ich verlange auch, daß wir denen helfen, die uns zu dem gemacht haben, was wir heute sind."
https://is.gd/MDqMGs
kdm, 09:22h
... link (1 Kommentar) ... comment
Dienstag, 20. Dezember 2016
"Zuerst...
...müssen wir dafür sorgen, dass unser Planet bewohnbar bleibt -- nicht irgendwann einmal in ein paar hundert oder tausend Jahren, sondern jetzt gleich, binnen weniger Jahre oder Jahrzehnte. Dazu ist ein Umdenken in der Regierung, Industrie, Ethik, Wirtschaft und Religion erforderlich. Wir haben so etwas -- zumindest auf weltweiter Ebene -- noch nie gemacht. Gefährliche Technologien und Korruption sind vielleicht schon zu weit verbreitet, zu viele Regierungchefs eher an kurzfristigen als an langfristigen Erfolgen interessiert, Es gibt vielleicht zu viele Bürgerkriege, Einzelstaaten und Ideologien, um einen weltweiten Wandel herbeizuführen. Vielleicht sind wir auch zu dumm, um die eigentlichen Gefahren zu erkennen. Vielleicht merken wir gar nicht, dass wir von denjenigen gezielt mit falschen Informationen gefüttert werden, die an einem grundlegenden Wandel nicht interessiert sind."
Carl Sagan "Pale Blue Dot", 1994
kdm, 11:53h
... link (1 Kommentar) ... comment
Donnerstag, 15. Dezember 2016
Prog
British PROG magazine has just released what they call "The Synth Issue!". There is also a pleasing article about the "true musical maverick" KS on pages 44 and 45, based on an interview that I had arranged two months earlier.
.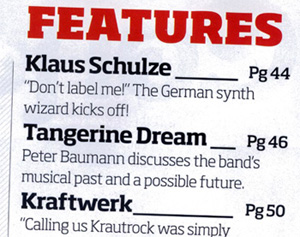 ... link
Freitag, 9. Dezember 2016
"...sowas wie targeting von Facebook zu unterbinden und sagen:
...Schönes Geschäftsmodell habt ihr da. Leider ist dieses Geschäftsmodell inkompatibel mit der Zukunft einer Menschheit auf diesem Planeten. Tut uns wirklich leid, sucht euch ein anderes."
... link
Montag, 28. November 2016
immer noch
Ab und zu bekomme ich solche Hinweise:

Hallo,
der nachstehende Blog bietet illegale Downloadlinks für Klaus Schulze Alben an: http://xxxxxx.net/?s=klaus+schulze
Mit freundlichen Grüßen
Oliver S.

Ich antworte dann jeweils ungefähr so:

Danke für den Hinweis. Du solltest das an die Plattenfirma schicken: info@mig-music.de Es sind deren Produkte, die illegal kopiert und angeboten werden.
Übrigens:
Die mitgeteilte Website ist leider nicht das einzige derartige illegal Angebot im Netz. Und es trifft nicht nur Klaus Schulze. Hier zum Beispiel gibt es ebenfalls alles mögliche: http://xxxxxx.se/music
...und neben der Musik auch Software, e-books, Computer-Spiele...
Wenn man dort nach "Klaus Schulze" sucht, kommt diese lange Liste mit download-Angeboten fast aller KS-Alben: https://xxxx.pw/Klaus-Schulze/post-406621.php
An diese Leute und Firmen kommt man so gut wie nie ran, die sitzen in bestimmten Ländern... Und in der Tat verlinken sie "nur" auf Filehoster, bei denen man die Musik dann (illegal) downloaden kann. Und an die kommt man noch schwerer ran.
Leider aber auch:
"Die Leute draußen" finden das doch alles ganz toll; manche Musikliebhaber (wg. Geiz) und viele Journalisten (wg. Ahnungslosigkeit) lieben kostenlose Musik.
Siehe z.B. YouTube: Die Rechte an den gezeigten Filmchen UND AN DER MUSIK hat Google/Youtube in der Regel ebenfalls nicht. Und wenn die Urheber (mit ihrer Vereinigung GEMA) oder die Musiker (mittels ihrer Plattenfirma) dagegen juristisch vorgehen, werden sie öffentlich als böse "Content-Industrie" niedergemacht, die "uns" "unsere" tolle Musik wegnehmen will. Nein! Der Musiker lebt nicht von der Musik, sondern von dem Geld, das er dafür bekommt.
(die Webadressen habe ich mittels xxxx anonymisiert)
kdm, 10:44h
... link (1 Kommentar) ... comment
Donnerstag, 24. November 2016
Greatest
It is well known by those who listen to Klaus Schulze's music, that he's not playing Rock'n'Roll oder "Rock". What Klaus is creating with his brain, heart, belly and instruments is not yet clearly expressed, but "Rock"...?
Anyway, here is a website that tells us the plain truth:
.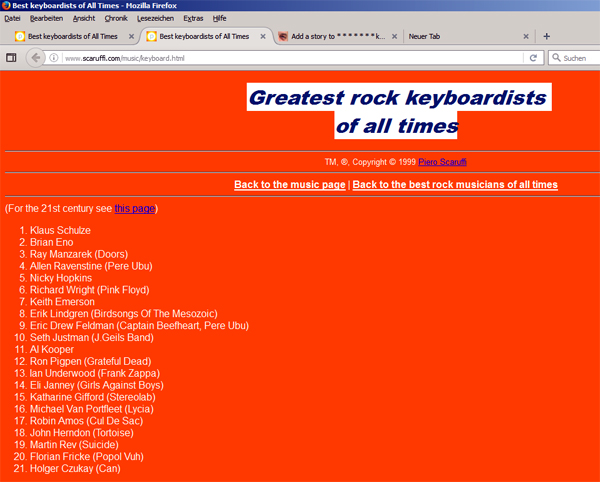 .
:-)
Where is Little Richard? Ian Stewart?
At least, two real rockers are included: Fats Domino (no. 88) and Jerry Lee Lewis in position no. 91.
kdm, 10:34h
... link
Freitag, 18. November 2016
Donald Duck & Co (Carl Barks)
Someone (probably in the Netherlands or in Belgium) is interested to obtain my collection of the series DONALD DUCK (books 1 to 50) and the series OOM DAGOBERT (books 1 to 30)?
Subtitle for all: De beste verhalen uit het weekblad. And indeed, it's the best, because all 80 booklets (48 pages each) contain only the famous Carl Barks stories. The lettering is in Dutch.
The paper and the colour-print are of excellent quality and this was the only reason I had bought them over thirty years ago, in addition to the German series "Die besten Geschichten mit Donald Duck" (which were more often used, also by my son; and it shows).
.
.
All these Dutch softcover books were read only once (if at all) and then stored away, which means they are nearly mint condition. Some have still the small price sticker on the front's upper right corner.

I just see that I also have the five Dutch booklets "de JONGE JAREN van Mickey & Donald - Hoogtepunten uit de Striphistorie". It contains much earlier (before Barks) one-page strips. 46 pages each, same good quality and in very good condition.

And of course I have also the American editions of "Comics and Stories by Carl Barks", vol. 1 to 51, and similar books in this historic Disney series (as long as Duckburg's townsfolk is involved): Both volumes of UNCLE $CROOGE, GYRO GEARLOOSE vol.1 to 6, and CHRISTMAS STORIES, as well as the complete DONALD DUCK FINDS PIRATE GOLD ... all new and well packed, and from Carl Barks, of course. But all these treasures just fill my shelves.

And in addition I have 51 colourful "Carl Barks' Heroes and Villains" collectors' cards - 6 x 9 cm each - with all the characters of his storys. Und auch der deutsche DER DONALDIST bis Ausgabe 100 ist vorhanden.
.
If interested, make me an offer (kdmÄTposteo.de), or ask, in German or English please. Dank u wel.
.
PS in March 2017:
Have all thrown away, now :-( Need the space.
kdm, 13:23h
... link
Dienstag, 15. November 2016
A letter to the colonies...
... link
Freitag, 11. November 2016
How & why
kdm, 12:15h
... link (1 Kommentar) ... comment
Sonntag, 30. Oktober 2016
Before the Flood
Very rarely I link to Youtube.
But this here is necessary.
Leonardo DiCaprio made a film about the CLIMATE CHANGE.
95 minutes for free.
.
PS:
The original film is often "deleted". Above I give already the third link. If it's again "not available", try the version with German voice-over:
Hier
ist eine Version mit deutschem Text.
PPS:
Now it's deleted again on Youtube.
... link