Mittwoch, 7. September 2011
Me and my keyboard
.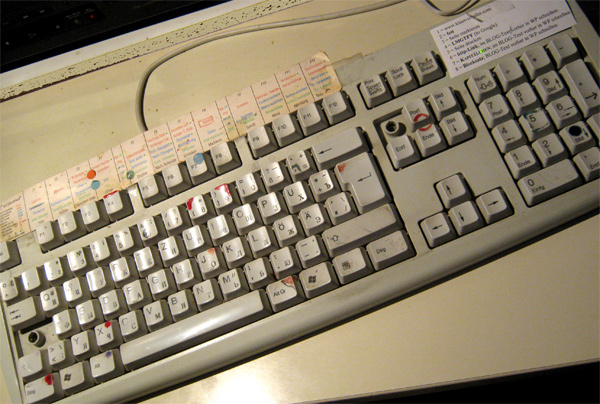 .
It's very old but I'm used to it and I like it.
Note the two missing keys, I took them off because I never ever needed them - but too often I touched one of them involuntarily and noticed the bad result too late. So, I just took them off. The "E" on the E-key is no longer visable, it had too many touches. The red and blue marks are (better: were) little eye-catchers for me. The 20-years old strip on top of the "F" function keys is my text program's list of key codes. The notes on top of the numerical pad is my own configuration of the "numbers": some special commands for my text programme WordPerfect. And the cyrillic letters on the A-Z keys were for Julia when she needed to type something in Russian on my PC, back in ancient time, yet without her own laptop.
Of course, I also have two newer keyboards, one even in très chic black! I tried them, but quickly I plugged in again my well-used old one. It's a tool that is rarely mentioned or even praised. Now it's done.
.
... link