Montag, 23. Juli 2018
Nostalgic recollection, pt. 1
In issue # 10 of 'The KS Circle' from autumn 1996 I have announced the start of "The Official KS Website" :

Honourable [KS Circle] member Lennart helped me to enter the internet. What he told me makes sense, as usual. There are various mailing lists, web pages etc. in the net, that also report from time to time about KS. Their content is taken from The Works, from our newsletters, and some of it is just gossip, hearsay or guesswork. To stop such rumors about KS in this new media, it is the best, to use this media and to make our own official Klaus Schulze "homepage".

Right. And as simple as that. We do it. Our homepage will contain plenty of bare facts about Klaus Schulze, past and present, such as a short discography of all CDs and of available CDs. Then we will give all news about any new album and when and where it will be available, about coming concerts (if there are some), maybe hints at articles in the international music press, and of course hints at The Works, our The KS Circle, Schulze's coming birthday, and many other practical things.

Since 20 August 1996 you can reach the Klaus Schulze homepage under:
HTTP://OURWORLD.COMPUSERVE.COM/HOMEPAGES/LK13/KS.HTM

PS: for quite same years now it's https://klaus-schulze.com
kdm, 16:11h
... link
Freitag, 13. Juli 2018
...also in the US of A
. .
(aka: 'Big in the Colonies')
"We only use his first name, the way you just call Miles Davis, Miles. In my world, everyone knows who you mean." ...said our old American friend the radio producer John Diliberto about Klaus Schulze.. . . John is still active, now in the internet, see here ...and just recently (starting at 06:40) here
kdm, 11:30h
... link
Dienstag, 26. Juni 2018
The KS Circle #251
Issue #251 - the 'summer edition' - was posted today to all Circle members.
It contains:
Many reactions to 'Silhouettes'
Memories from 1976
Handwerk vs. 'Werk' (in Deutsch)
A historic photo
this & that
kdm, 12:43h
... link
Montag, 18. Juni 2018
"...with an almost defiant beauty."
Glossy British PROG Magazine has in its recent issue a longer interview with KS and a one-page review of "Silhouettes".
kdm, 14:43h
... link
Sonntag, 3. Juni 2018
Aus einer älteren Circle-Ausgabe
Warum denken die Leute immer, dass KS bei jedem neuen Album das Rad neu erfinden muss? Das hat Klaus doch schon einmal getan, als er diese Musikrichtung erfunden bzw. geprägt hat.
(Issue 202)
kdm, 12:32h
... link
Freitag, 25. Mai 2018
Aktuelles sechs Minuten Interview
kdm, 16:21h
... link (1 Kommentar) ... comment
Donnerstag, 24. Mai 2018
Another Jubilee
The 250th issue of my monthly brochure will be posted today to the few handful worldwide followers, supporters, enthusiasts, friends and lovers of Klaus Schulze's music.
.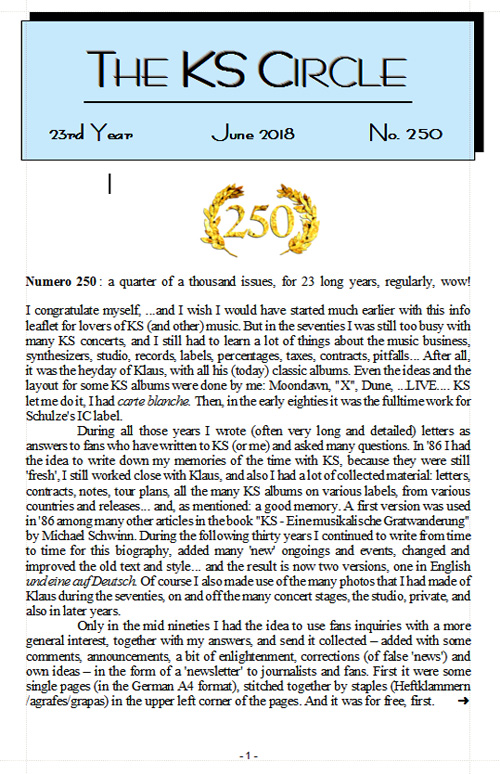 .
This edition's content on 12 pages:
250 issues, month by month
50 Jahre lang Berufsmusiker (in German)
43 years in Hambühren
25 years of Silver Edition
40-year-old recording by Robert Schröder
Kennerschaft vs. Unbefangenheit (in German)
kdm, 09:18h
... link (3 Kommentare) ... comment
Montag, 21. Mai 2018
The very first:
"Silhouettes just arrived and I am listening :-)
Please say THANK YOU for KS.
Best regards,
Greg M., Warszawa"
PS:
"My first impression: Very nice relaxing music. I like it!"
kdm, 14:34h
... link
Sonntag, 29. April 2018
Exactly 25 years ago...
.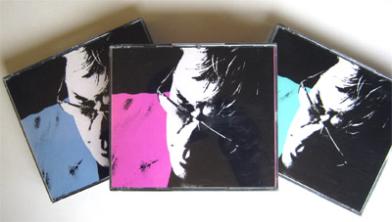 ... at the end of April 1993, I had finished the work for the first of our CD sets, SILVER EDITION, containing ten CDs with recent studio recordings of Klaus Schulze and a few older concert recordings. All previously unreleased.

Yep, at the end of April 1993 I had informed the press with an interest in this kind of music, which was at this time mostly the many e.m. fanzines in all corners of the world = I knew 58 different ones, from Agitasjon to Zenith. Also I informed a few hundred individual fans. I had many files filled with our collected letter exchanges; remember: this was a time without websites and mails. I had send them all a personal letter with the info about our SILVER EDITION offer. In some of the e.m. fanzines I also I booked (and paid for) a one-page advertising for SILVER EDITION. It was the very first time that in our genre such a set was released.

We have deliberately omitted the middlemen in this CD selling business: distributors and retailers. We delivered only to single people and to a handful of longtime friends who run a small 'private' mail order service (hello, Archie!). At this time we didn't know if our effort will be successful, if we will really find 2000 people willing to pay the circa 200 DM (100 € today) for such a special release. Luckily we were successful, even if the last - roughly one hundred - sets took a few weeks to find their customers... By the way: 85 copies of this set we have sent for free to journalists, some friends and a few musical collegues. Oh, I nearly forgot to mention: It was a huge success, critics and fans were thrilled !

Two years later I repeated this 10-CD set idea, this time with formerly unreleased historic recordings from Klaus Schulze's concerts or his studio, hence the title: HISTORIC EDITION. And another two years later I even produced a 25-CD set of unreleased music...

And now it's the 25th anniversary of SILVER EDITION.
.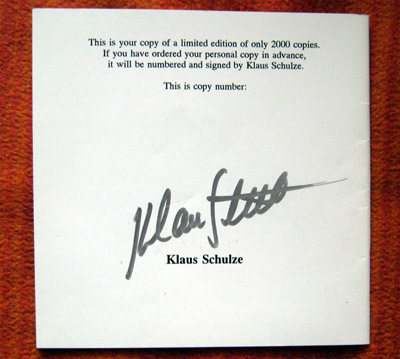 The back of the 48-pages booklet

kdm, 12:40h
... link (3 Kommentare) ... comment
Dienstag, 24. April 2018
Old already. But good.
I just have asked Lennart, to replace the current photo of Klaus (on the official website's opening page) with a better one, even if it's not new but according to our motto: "Alt schon. Aber gut."
kdm, 12:41h
... link (1 Kommentar) ... comment