Sonntag, 24. November 2019
2020
The members of THE KS CIRCLE will get the message in the coming December issue: Please renew your membership for the coming year 2020, ...if you want to continue to get the newsletter (and much more) in its 25th year of existing, month by month...

Newcomers are welcome. Please send me a mail to receive the (simple) conditions: kdm@posteo.de
A pdf sample of an older edition is here
kdm, 10:47h
... link
Freitag, 25. Oktober 2019
From "The KS Circle" # 206 ... (Nostalgic recollection, pt. 17)
"Man wird doch nicht Musiker, um sein Leben lang Schulze-Musik zu spielen!"
"Aber dazu wird doch kein Musiker gezwungen!"
"Und Klaus Schulze?"
kdm, 12:17h
... link
Mittwoch, 9. Oktober 2019
From "The KS Circle" # 4 ... (Nostalgic recollection, pt. 16)
. . . . American David M. C., MD, wrote me some nice memories from the early 70s: »There was almost no recognition of "Electronic Music" in the US press, at the time of its beginnings. The only source for information were album covers and word of mouth from other record buyers. The record store employees did not know where to stock the albums. Most simply filed them with the rest of the "Imports". A few had an "Electronic Music" section, which also contained the experiments of the university Electronic Music Ensembles. These albums were mostly dreadful, and confused the record buying public. I purchased Moondawn during the summer of '76 because I liked the album cover. In the years that followed it was rare to find an album review, or find an article about KS. I have waited almost twenty years for The KS Circle, and it is outstanding.«
. . . . (Thanks for mentioning the Moondawn cover. It was my very first try in doing covers. -kdm)
.
Source: The KS Circle from December 1995.
kdm, 09:51h
... link (0 Kommentare) ... comment
Donnerstag, 19. September 2019
The KS Circle 265
The October Circle was posted today. It includes, among other matters, issues & items:
Polyphony (only!) in music
Clara Mondshine
KS for Beginners (invitation to help)
Group name(s)
Horst Stern 1975 (KS soundtrack)
A Young Turk in Poland
A flyer from 1970
Vor 40 Jahren: Konzert Tournee Tagebuch (German)
PS:
The next (November) issue will have a long English translation of the concert tour diary.
kdm, 11:06h
... link
Dienstag, 27. August 2019
KS for beginners ...
...was an item which I wrote in December 1998 for the issue no.31 (January 1999) of "The KS Circle". Here is this very short descriptive list of Klaus Schulze's solo albums up to this date:

IRRLICHT Early organ drone experiments.
CYBORG (2 CDs) Further organ drone experiments. Heavy stuff.
PICTURE MUSIC For the first time KS uses "real" synthesizers.
BLACKDANCE If correctly mastered, a feast to the ears.
TIMEWIND Americans regard this as a "masterpiece", probably because it was for many years the only available album for them. Its "Bayreuth Return" was recorded on just a stereo tape & at one go.
MOONDAWN The first masterpiece in the typical Schulze style and in a much better sound than all the former albums. Try to get the original CD version on Manikin Records.
BODY LOVE The soundtrack for a hard core porno. Not bad. I mean the music.
MIRAGE A serious work. Tricky sequencers. The second masterpiece.
BODY LOVE 2 Additions to the (successful) soundtrack album.
"X" (2 CDs) Masterpiece number three.
DUNE Arthur Brown sings on the rhythmic track (lyrics are included). The other track can be called experimental ambient meets a masterfully played cello.
"...LIVE..." (2 CDs) Typical KS concerts from 1976 and '79.
DIG IT First fully digital recording. To the point. One track even has a jazzy note.
TRANCEFER Typical sequencer driven music from that period.
AUDENTITY (2 CDs) Partially avantgarde stuff.
ANGST (soundtrack) Sounds nice. Film was cut to the music (not vice versa as usual).
INTER*FACE Especially the three shorter tracks have a more or less straight rhythm.
DREAMS Beware of the British singer for the last ten minutes!
EN=TRANCE The long track "Fm Delight" is one of those typical "Schulze in the mood".
MIDITERRANEAN PADS The first album that shows a new beginning.
THE DRESDEN PERFORMANCE (live) (2 CDs) Three of the tracks are additional studio recordings.
BEYOND RECALL Sampling starts...
ROYAL FESTIVAL HALL Vol. 1 (live) Sampling goes on...
ROYAL FESTIVAL HALL Vol. 2 (live) ...and on.
THE DOME EVENT (live) A concert that is very enjoyable to listen on CD at home; also, it marks the peak of KS' sampling era.
SILVER EDITION (10 CDs) A risky but very successful attempt. Mostly new music.
LE MOULIN DE DAUDET (soundtrack) Typical short film soundtracks.
KLAUS SCHULZE GOES CLASSIC Simply: KS doesn't play KS.
TOTENTAG (opera) (2 CDs) Too much parlando and recitative in German.
DAS WAGNER DESASTER - LIVE - (2 CDs) A daring experiment: The same two concert recordings in two different mixes.
IN BLUE (2 CDs) Great with and without Manuel.
HISTORIC EDITION (10 CDs) Even more successful than "Silver Edition". Just historic concert & studio recordings.
ARE YOU SEQUENCED? (2 CDs) The first CD is a treat!
JUBILEE EDITION (25 CDs) 1947 minutes [!] of unreleased material (1970-'97) for KS' fiftieth birthday; all reactions show: the most successful of the three "Edition" sets.
DOSBURG ONLINE A mixture of studio & concert recording. Sadly, it was badly mastered. [KS was not happy with it, in November 1997]
kdm, 09:41h
... link
Donnerstag, 1. August 2019
24 years ago...
... the first issue of THE KS CIRCLE has been published. This was the intro:
.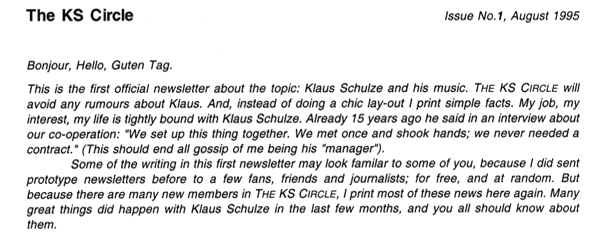 Since then I regularly fill and publish an issue every month. A table of contents of all - meanwhile 263 - issues can be found here.
By the way: The start of our official KS website was just one year later, on the 20th of August 1996.
kdm, 08:52h
... link (1 Kommentar) ... comment
Donnerstag, 25. Juli 2019
The KS Circle # 263
Eigentlich gibt's in den Sommermonaten Juli/August nur eine Ausgabe des THE KS CIRCLE, in anderen Worten: im August erscheint nix. Vor allem aus Urlaubsgründen, beim Schreiber wie bei den Lesern.
Anno 2008 und 2017 gab's aber doch & ausnahmsweise eine August-Ausgabe. Und auch in diesem Jahr wieder, sogar mit 16 Seiten; sie ging heute per Post an alle Abonnenten.
.
The KS Circle is published monthly, except in July/August, when there is only one issue for both months. Normally. This year there's (another) exception, the August edition was just posted, even with 16 pages.
kdm, 17:30h
... link
Dienstag, 14. Mai 2019
From "The KS Circle" # 36 ... (Nostalgic recollection, pt. 14)
.
kdm stutzt
"Am Anfang war Andacht und Meditation. Mit gekreuzten Beinen saß Klaus Schulze vor der Maschine, sein Körper war in weiße, wallende Gewänder gehüllt und das Haar fiel ihm in langen, dunkelblonden Locken [!] über die Schultern. Die riesige Maschine, vor der dieser deutsche Pop[!]musiker ehrfurchtsvoll [!] kauerte, sah aus wie die wandschrankgroßen Telefonvermittlungen in alten Hollywoodfilmen: Hunderte von Steck-verbindungen, Knöpfen und geheimnisvoll blinkenden Lämpchen. Moog-Synthesizer hieß dieses erstaunliche Musikgerät, mit der die Geschichte der elektronischen Popmusik begann. ... Und Pink Floyd, Genesis, Tangerine Dream und Klaus Schulze blubberten, zwitscherten und rauschten [kennt man inzwischen wirklich keine neuen Verben?] davon, in zuvor unvorstellbare Science-fiction-Klangwelten. Spätestens Mitte der Siebziger war solch bekiffte Hippiemusik jedoch nicht mehr zeitgemäß..." ("Konrad", Juni/July 1999, Deutschland)

Natürlich ist alles wieder mal nur halb richtig. Weder meditierte Klaus bei Konzerten – oder zuhause, wo er ganz genauso konzentriert vor den Instrumenten sitzt – noch hält er irgendeine ehrfurchtsvolle Andacht. Der gewählte Aufbau sowie Klaus' Sitzplatz waren einfach a) das technisch praktischste: schließlich muss alles miteinander verkabelt werden, und b) für KS das bequemste. Alle zu bedienenden Tasten und Regler mussten erreichbar, also maximal in Armlänge sein. Genau genommen war ich (als Roadie & Techniker) nicht ganz unschuldig an diesem Geräte- und Bühnen-Aufbau. Doch solch Normalität ist natürlich keine "Story" für ein buntes Magazin, das die Leser unterhaltsam bei der Stange halten und eigentlich nur an ihr Portemonnaie will. Zur Kleidung: In der Regel war Klaus normaler angezogen als viele im Publikum. Sollte er nackig auftreten? Oder mit Schlips & Kragen? Lustigerweise bemerkten andere Schreiber genau das Gegenteil der hier behaupteten, natürlich frei erfundenen "weißen, wallenden Gewänder": einen schlichten Overall, und fanden den unpassend und komisch. Was also nun? Das, was gerade zum launigen Tenor des jeweiligen Artikels passt? Und, da frage ich mal vorsichtig: was ist eigentlich mit der Realität, mit der altmodischen, äh, Wahrheit?? (Denkpause) Achja: Auch gehörten "Genesis" nie zu der Fraktion der Synthi-Gruppen... "and-so-on, and-so-on, and-so-on" (cit. Monty Python)
Im Grund isses nur eins: Solch' Schreiber konnte und kann mit der Musik nix anfangen. Dies aber sinnvoll und gekonnt zu begründen und zu beschreiben, dazu bedarf es etwas mehr als die allermeisten der zur Popmusik abkommandierten Jüngelchen in den Redaktionen drauf haben.
Am Schluss des (ja eigentlich für diese Musik recht positiven) Artikels steht dann der schöne und richtige Satz: "Die Elektronik hat gesiegt." Irgendwie kommt mir der Spruch doch sehr bekannt vor; ich glaube, den erfanden und verwendeten wir schon vor zig Jahren für die KS-Werbung... [1979 für DUNE]
Thanks to the many (!) who have sent me a copy of that article. Oops, I mean: Mein Dank geht an all die treuen Seelen, die mir eine Kopie oder sogar die originalen Magazin-Seiten zugeschickt haben.

(PS 2019: Der Artikel entstand vor zwanzig Jahren)
(PPS: Mehr Kurioses gibt's in https://klaus-schulze.com/opinions/absurd.htm
kdm, 12:59h
... link
Samstag, 20. April 2019
The KS Circle # 260
The May Circle was just completed and will be posted after Easter, on the 23rd of April.
kdm, 18:01h
... link
Dienstag, 26. März 2019
From "The KS Circle" # 233 ... (Nostalgic recollection, pt. 10)
The Rhythm
From time to time I listen to some electronic music on the radio, I mean a music which is especially announced and introduced as today's "Electronic Music" in a special radio programme, and what do I hear, mostly? Generally from Germans? Always a very simple rhythm. Everytime. All tracks. Consistently just the stupid boom boom. Still in 2016.
Of the three essential parts that makes music: Melody, rhythm and harmony, the rhythm seems to me the easiest. Also the easiest to compute. But not even this they can handle in a way that brings some joy to the listener's ears and brain. Some of these musicians (or should I say home computer players?) still copy KS, which is okay; many of them have learned (consciously or not) from KS, which is also very much okay. But have they not listened to Klaus' often "tricky" rhythm? Or to any other rhythm that is a bit more advanced and interesting, more than what they offer to our ears? Take, for instance: Klaus' "Are You Sequenced?" or Olatunji's "Drums of Passion", or Santana... Even the 4/4 swing of the Count Basie rhythm section in 1938 was something they could learn a lot from (Freddie Green, Walter Page, Jo Jones).
Is it just too difficult for them to produce? Are they not able to create an appealing rhythm? Or are they satisfied with the simplicity (sometimes: stupidity) they offer, again and again, and only? And sometimes I also wonder about the radio journalist who presents these musicians and their titles; doesn't he realise the poorness of at least their rhythm?(Richard 'Myknee' Jones)
.
Oder, wie Teddy Hecht zu "Techno" meint: »Früher hieß sowas 'Marschmusik'.«
.
... link (3 Kommentare) ... comment