Freitag, 15. Februar 2013
The Schulze-Schickert Session 1975
The Russians were busy to celebrate Xmas (for two weeks), then there was the MIDEM in the South of France, ...but "now we are beginning to prepare one of our best releases" as they have told me, ....two weeks ago.
And whoopee: The release of "The Schulze-Schickert Session 1975" is announced for the 4th of March. Available from the dealer of your trust (and not just in Russia).
.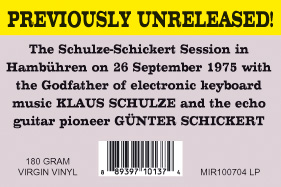 .
The MIRUMIR label is an LP label and the main release is the LP (they love vinyl). But of course they also do CDs. In addition the do a limited edition of only 300 "digipack" CDs, all numbered from 1/300 to 300/300 (...because there are people who buy these things?! ...even if it contains the same music as not "normal" CD).
Catalogue numbers are: MIR 100704 LP, and MIR 100704 CD.
.
.