Sonntag, 15. Mai 2011
Pollers with cute caps
"Im Straßenverkehr bezeichnet man als Poller oder Pfosten kleine Pfeiler aus Metall, Holz oder Beton. Sie werden eingebaut, um das Befahren oder Beparken von Bereichen wie Gehwegen, Radwegen oder Fußgängerzonen zu verhindern." (Wikipedia über "Poller").
"A bollard is a short vertical post. ...such as posts arranged in a line to obstruct the passage of motor vehicles." (Wiki about Bollards).
But not all have small red knitted caps.
Allerdings haben nicht alle Poller solch schöne gestrickte Mützen, wie diese hier in Berlin-Lichterfelde:
.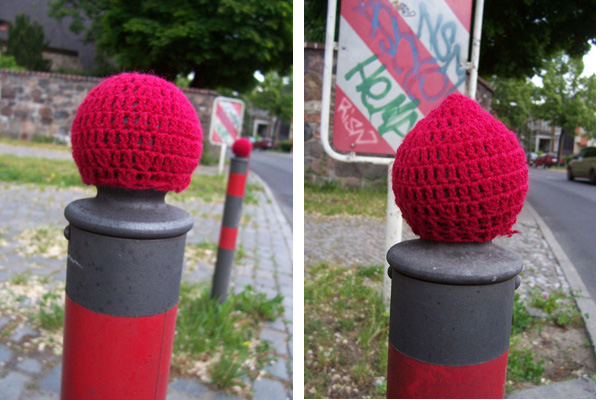 .
... comment
yulchen, 16. Mai 2011, 21:20
Ich will auch ein rotes Käppchen haben...
... link