Dienstag, 9. Dezember 2014
Not the newest (but the best)
Klaus' last studio album is nearly two years old ... but this just published review is worth a read.
(...same as the former articles about KS, by Tobias Fischer, such as this, or this)
kdm, 19:19h
... link (0 Kommentare) ... comment
Samstag, 29. November 2014
The titles
To answer possible questions about the contents of the new album STARS ARE BURNING, here is a pic taken from page 184 of the detailed discography KS - THE WORKS:
.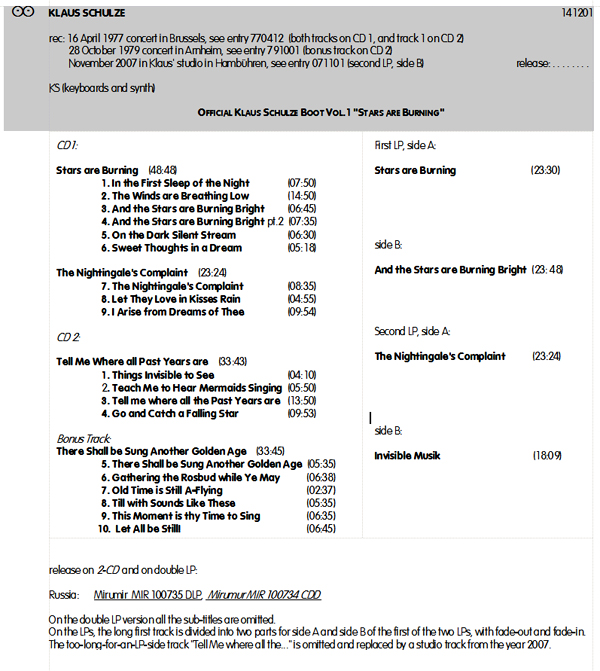 .
The album is of course available worldwide from your trusted dealer. Hopefully soon (see entry below, of 18 November). And, yes, I have plans for additional releases of this kind. Hang on.
kdm, 11:28h
... link (2 Kommentare) ... comment
Donnerstag, 27. November 2014
Have you ever...
...asked yourself what happens in Klaus Schulze's head when he plays music? ...and what in your's when you listen? Then, watch these nearly five minutes (in English):
.
Less top-heavy is this touching explanation of (more or less 'classical') music.
kdm, 18:27h
... link
Freitag, 21. November 2014
sample vs. sampler
I just read on a (technically not very good) photo from the STARS ARE BURNING cover, on the German Amazon (as well as on the JPC.de) website:
"...formerly only released on a rare sample."
The title in question (only on the LP version) was of course on a rare sampler, with an "R" at the end :-)
kdm, 17:15h
... link
Vor 40 Jahren:
.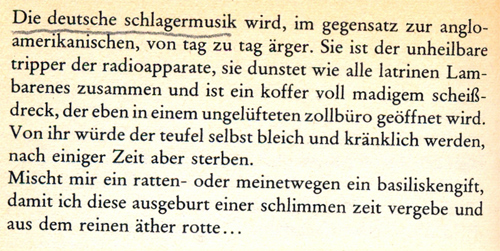 .
...notierte damals völlig zu Recht h.c. artmann. Ist's heute besser?
kdm, 16:44h
... link
Dienstag, 18. November 2014
dates
Official release of the double CD "Stars are Burning" is the 20th of November. Dealers announce various (different) dates: between the 1st and the 15th of December they will have it on stock. The double LP will come officially on the 10th of January.
kdm, 13:45h
... link
Samstag, 8. November 2014
Reminder / Erinnerung
Freitag, 24. Oktober 2014:
About the membership renewal for 2015 ...
... (& maybe one of 44 free CD-Rs) ...
... (...with a nearly unreleased track)...
... (...and a historic interview)
.
Until today, most of you have renewed the membership for 2015. For the others, please note:
There are only four copies left of the announced "free CD-R"
Update 12 November: All 44 are gone = will be sent with the December Circle.
kdm, 13:24h
... link
Freitag, 7. November 2014
any help?
For the last 30 years I try to find this riddle's solution. This rebus was published in the literary book series DER RABE (The Raven, issue no 4) in 1983 and they ask: "The purely literary RAVEN puzzle. What basic sentence of the new literature is symbolized in this drawing? Solution in the next edition of DER RABE."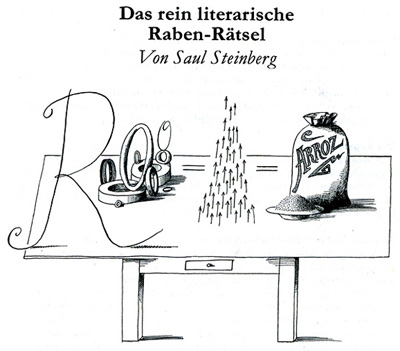 .

"Welcher grundlegende Satz der neuen Literatur versinnbildlicht diese Zeichnung?"
.
But in the next edition was just printed (I translate again:) "Because the riddle was so easy, we don't give the solution". Oops! And any following edition (up to no # 61 in 2002 when Swiss Haffmans closed down) didn't mention a word about this rebus. Also a search for Saul Steinberg showed many many drawings, but not this rebus. I even own books from him (I'm a fan), so he was not unknown to me. But the above...?
For 30 years I wonder... I even asked an expert recently, and he told me: the whole was maybe just a joke to fool the readers, the publisher (Haffmans) and his authors liked to do these things. Could be.
.
Any help? Sorry, I don't even know if the rebus' solution is in German or English, (...or Spanish? note the 'Arroz" = rice/Reis)
PS:
The riddle is no more a riddle, see comments
kdm, 10:57h
... link (2 Kommentare) ... comment
Donnerstag, 6. November 2014
Flamenco?
Django Reinhardt wurde gerade in den 12-Uhr-Nachrichten des "Kultur"(!)radios allen Ernstes als "Meister des Flamenco" bezeichnet.
kdm, 12:08h
... link (3 Kommentare) ... comment
Montag, 3. November 2014
ten years old story, still amusing:
A phone call at nine on a Monday morning. Nanu? ...another fan asking me urgently for a copy of ANDROMEDA ? ... No.
A German woman's voice, "Albrecht. De-und-Ha," and if I can help. They don't know what connection I have to Klaus Schulze but they saw my name on the official website and maybe I can help them. Okay, I said, what is it?
They wanted to buy old titles from KS. "Old titles? What old titles? You mean from CDs?" I asked, and "what for?" Yes, they want to buy some old titles from KS. "Don't you know that the 'old titles' are released with big record companies?" I asked, "...and most of it is still available" - realising that the woman on the other side don't know too much about 'Klaus Schulze'. I tried to explain: "Schulze's recordings are released by record companies, you should ask them. You mentioned the official KS website, you must have seen this."
She was a bit puzzled that Schulze has not the rights to "sell" his early recordings to her company (of which I have never heard before): "But Schulze must be able to sell us his titles?! We make compilations, as we did, for instance, with 'Mythos', and others," she said a bit proudly. "Ach ja? One of those cheap oldies samplers?" I tickled her. "No, no," she answered, "we make high-grate samplers." Yes, she mentioned the word "hochwertig", and obviously she did not know one thing about the artist they want to release.
"On which labels he was, then?" she asked a bit sceptically. My reply was quickly: "WEA, EMI, Virgin, Universal..., and you should contact those companies, they have the recording rights, but not Schulze. And this is common procedure in this business, for samplers and for other use." I waited that she also asked me for the addresses of these (well-known) companies, but no such or any other question came. What came from her instead, were some bitter words, and I hung up. It seemed to me that she was pretty new in that music record business. ...
In the kitchen, while preparing my coffee, I thought this over, and found the story quite amusing. Of course not so amusing for the poor girl - Miss Albrecht - whose job it is to find and to call diverse (long-forgotten? she may think) artists and ask them for their early recordings and if they can buy it cheaply for re-release on samplers.
(entry in THE KS CIRCLE, March 2004 edition)
kdm, 11:07h
... link (3 Kommentare) ... comment
Dienstag, 28. Oktober 2014
Roedelius (80)
Ich gratuliere!
.
Hier kann man nicht nur ein aktuelles sondern auch sehr entspanntes & schönes Interview mit meinem Freund Hans-Joachim Roedelius hören.
PS: Und hier auch, zwei Stunden in Olafs 'Elektro Beats'.
kdm, 19:56h
... link