Dienstag, 30. September 2014
Zufrieden...
...mit "Big in Europe Vol. 2 - Amsterdam"?
kdm, 12:22h
... link (6 Kommentare) ... comment
Mittwoch, 24. September 2014
Zugabe: Die deutschen Qualitätsmedien, Ukraine, acht Minuten
kdm, 19:13h
... link
Donnerstag, 18. September 2014
mal seh'n...
Ich seh' gerade, ich hab da noch einen klitzekleinen Stapel originale, fabrikneue Vinyl LP Erstausgaben von IDEAL auf IC von 1980 (KS 80 004), mit 45 RPM natürlich, wie alle Alben des ersten IC-Jahres.
.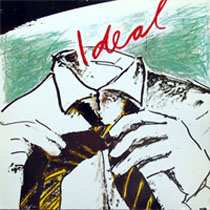 .
Und da Vinyl wieder "im Kommen ist", wie die Presse nicht müde wird, seit Jahren voneinander abzuschreiben... will ich doch mal sehen, wie groß das Vinyl-Interesse tatsächlich ist. Wer hat heute wirklich Interesse, eines dieser originalen LP Exemplare zu bekommen und ist auch bereit, entsprechend dafür zu bezahlen? Angebote bitte an kdm ÄT posteo D0T de (Nur die Interessenten mit den höchsten Angeboten werden benachrichtigt; falls es überhaupt welche gibt).
Oder wie wär's mit Manuel Göttschings Album E2-E4, die Originalausgabe auf INTEAM ID 20.004, auch Vinyl, auch original - ich hab' damals offenbar mehr Promo-Exemplare verschickt als verkauft wurden; erst später wurd's ein Insider-Hit. Zwei oder drei ungespielte Exemplare aus der Erstpressung im Erscheinungsjahr '84 sind noch vorrätig...
kdm, 09:49h
... link (2 Kommentare) ... comment
Mittwoch, 10. September 2014
I'm retour & comments are working again.

kdm, 10:01h
... link
Montag, 25. August 2014
Ich mache eine kleine Pause / I'm on holidays.
The comments are closed during this time (for technical reason also the older comments)
kdm, 15:51h
... link
Samstag, 16. August 2014
An early September 2014 "Circle"
Issue 207 of THE KS CIRCLE contains:

- About "Big in Europe Vol. 2 Amsterdam"
- About a peer
- Another recent interview
- KS & kdm
- Plans for double album with 1977 concert: "Stars are Burning"
- Julia on 4th of August about KS
- Some trivia & statistics
...and more
kdm, 17:41h
... link (1 Kommentar) ... comment
Donnerstag, 7. August 2014
more
Here is a pic of the complete
September release
:
.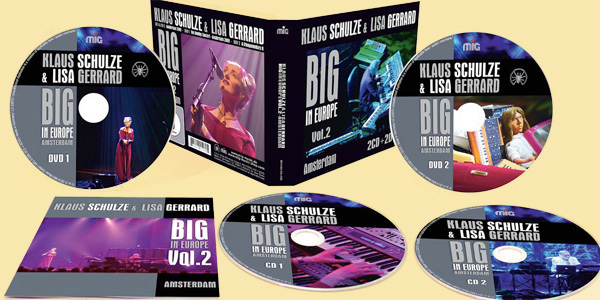 .
The titles:
CD 1
....(46:24)
1 Jan Pieterszoon Sweelinck ...(08:47)
2 Mad Ret Sma ...(06:39)
3 Prinsengracht 263 ...(18:11, Lisa joins)
4 The Polish Rider ...(12:44, still with Lisa)
CD 2
....(38:45 + 26:44)
1 Orcus Humanum Est ...(19:05)
2 Leiden ...(19:40, Lisa joins)
3 Hieronymus ...(13:08, the encore)
4 Le Moulin Déjà Vu ...(13:36, still the encore, and Lisa joins)
DVD 1:
The complete concert ...(to watch)
DVD 2:
A Moogumentary II ...(70 minutes)
.
The CDs contain the pure music only, without any applause or anouncements.
The DVD with the complete concert (118 minutes, same music as on the CDs) contains also the applause and all announcements by KS, as well as Lisa's sincere words at the concert's end.
kdm, 11:00h
... link (19 Kommentare) ... comment
Montag, 28. Juli 2014
à propos Russland
kdm, 19:15h
... link (3 Kommentare) ... comment
Freitag, 25. Juli 2014
listen & watch
There is same talk about our Klaus Schulze in a recent (from yesterday) podcast; and one of the four nice guys even seems to know a bit more about KS.
The topic "Klaus Schulze" is only for the first 16 minutes of the very long podcast. Otherwise: a lot of technical stuff.
kdm, 15:31h
... link
Montag, 21. Juli 2014
Yes, the former 'Jeeves' site is now headed kdm, simply because most of the readers know me better & much longer as 'kdm', the old friend & companion of 'KS', ...the publisher of many of his titles, ...and producer of some music albums. Also, I will write now my contributions here as 'kdm'.
Technically, it is still "jeeves.blogger.de", this cannot be changed. Maybe I should have thought a few more minutes about the name, when I started the blog.
When I started this, it was a test, I was curious how weblogs work and if I can handle it. Yes, it was fun to try out such a weblog ...and I have used the first positively connoted foreign name that came to my mind: I had just finished watching for the third time all episodes of Jeeves & Wooster with Fry and Laurie. After 4½ blog years as 'Jeeves' it is time now to put my real name here on top and also under my articles and comments.
In my official KS website there is and there never was the possibility for the user and music listener to react promptly (Stan & Ollie would say "in a jiffy"), e.g. to make comments or to ask questions. Here you can do it. Still.
kdm, 10:43h
... link