Donnerstag, 30. April 2020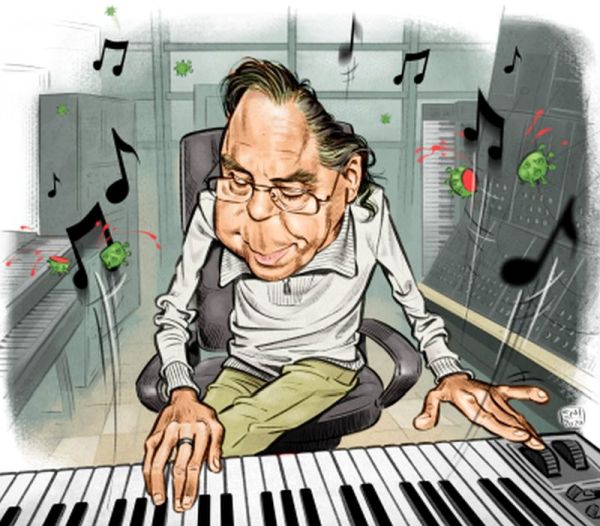 .
"Here is a new cartoon I drew these days. the title is: Music can defeat Corona. Best wishes for you and Klaus Schulze."(Mohammad Reza Akbari)
.
kdm, 09:47h
... link
Mittwoch, 22. April 2020
Discover Trakl
.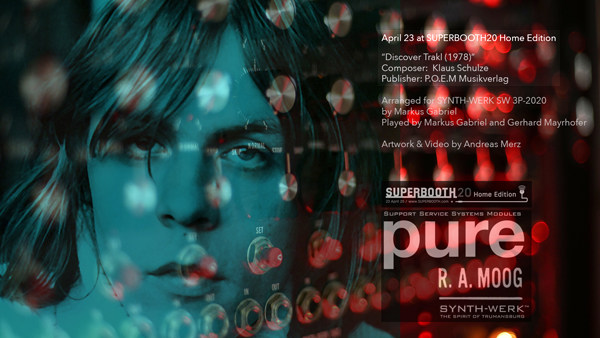 .
https://www.superbooth.com/de/ starts their HOME EDITION programme in the www on Thursday the 23rd April. Among the many presentations will be a video performance by a duo who plays Klaus Schulze's composition DISCOVER TRAKL, which Klaus originally had composed and recorded in 1978, and which I had released in 2000 in the 50-CD set "The Ultimate Edition".

See here: https://vimeo.com/410952505#t=137m19s
kdm, 15:59h
... link
Montag, 23. März 2020
Der neue "Circle" ging heute in die Post. Wenn er nicht pünktlich ankommen sollte, liegt das wohl an den momentanen Umständen.
. . . . Einen kleinen Fehler im Text möchte ich hier korrigieren. (Muss es sein? Es muss sein!). Da steht im Artikel über Plattensammlungen auf Seite 6: "... schon in einem Alter, der ihnen nahe legt, gleiches zu tun..."; es muss natürlich heißen: "...in einem Alter, das ihnen nahe liegt".
kdm, 09:45h
... link (1 Kommentar) ... comment
Dienstag, 11. Februar 2020
From "The KS Circle" # 54 ... (Nostalgic recollection, pt. 23)
During our Schulze concerts in the seventies, when an apparatus didn't work properly, I used a simple (and in a way barbaric) trick to make it work again.
. . . . When I read in Januar 2001 the interview that Peter Bogdanovich did in 1965 with film director Fritz Lang, I smiled and my concert memories came back. Famous film director Lang spoke about the work on his movie "M" in 1931: "The sound engineer had a wooden hammer, and every time something didn't work with the equipment, he took his hammer and just used it."
. . . . 45 years later and without knowing about the manners of Fritz Lang's sound engineer, I used my fist or foot. It worked too, then. Mostly.
kdm, 11:07h
... link (1 Kommentar) ... comment
Samstag, 8. Februar 2020
Nostalgic recollection, pt. 22
The very first review of a KS album, from the USA, 47 years ago:

Let's face it, Germany has never been known as a breeding ground for rock music. So, what else was there? If you're interested in electronic music you have to check it out. ... Schulze's effort is available separately as "Irrlicht: Quadrophonische Symphonie für Orchester und E-Maschinen". None of it is exactly the kind of stuff you're likely to hear on AM radio. Much of it is really remarkable, especially in its use of the synthesizer to produce non-synthesized (original) sounds as a basis for complex and extended musical compositions. ...
kdm, 17:33h
... link (0 Kommentare) ... comment
Freitag, 7. Februar 2020
From "The KS Circle" # 136 ... (Nostalgic recollection, pt. 21)
An Australian asked a tongue-in-cheek question:

I have just purchased the re-release of Virtual Outback and it is rapidly becoming a favourite from many 'favourites' of KS's enormous back catalogue. Does the man ever sleep?

Which gave me - and I took - the chance for a bit of calculation:

Ever sleep? Oh yes, and very long!
. . . . Take for instance the huge set of 50 CDs, "The Ultimate Edition", it includes 64 hours of music, which KS had recorded between the late sixties and 1999. Sixtyfour hours out of 262,800 hours (thirty years) = this is under 0.025% of the available time during thirty years.
. . . . And, if you add the same amount of recorded music (another 64 hours) for the regular releases during these 30 years... this little calculation would simply mean (to my own astonishment): Don't worry, Klaus had still 99.95 % of his time for sleeping, eating, thinking, reading, etc...
kdm, 11:54h
... link (1 Kommentar) ... comment
Mittwoch, 5. Februar 2020
kurz & knapp XL
From an interview 15 years ago:
Q.: How do you think your German background, education and lifestyle has influenced your music? Do you think you would have become the same artist if you grew up in Italy or England?
KS: "What would been, if..." is a question that leads to nowhere :-)
kdm, 13:27h
... link
Sonntag, 5. Januar 2020
Oldies But Goodies
Since the seventies we have some American friends and fans of Klaus, who were doing a radio program then; ...and they still do it. During the past 40 years they have regularly played his music.
Actually, in this week (from 3rd to the 9th of January), Klaus is again featured in their one-hour radio show "Hearts of Space"; you can listen to it here!
kdm, 07:34h
... link (1 Kommentar) ... comment
Sonntag, 29. Dezember 2019
The KS Circle
The first issue of the year 2020 will be posted on Monday the 30th of December ...at least to those who have renewed their membership.
kdm, 12:47h
... link
Montag, 25. November 2019
From "The KS Circle" # 218 ... (Nostalgic recollection, pt. 18)
... and I'm to blame
. . . . When I look from time to time into the (wonderful) booklets of the LA VIE ELECTRONIQUE CD series, I realize again and in retrospect that I was to a certain degree responsible for the visual image of Klaus Schulze, ...unconsciously and unintentionally.
. . . . Most of the many photos during the early heydays from 1975 on, and until 1981 (and a few beyond that year) were done by me, and they were also used by me, for the daily work with the other Klaus: for various releases on covers, for advertising and giving to magazines for their articles about KS. For many years I also have sent copies of these photos to fans, if they have asked for an autograph. During all those years and until the advent of the digital technique I have made those photos all by myself, in improvised dark-rooms, in Hambühren and later in Winsen; in the late eighties in Berlin. I produced hundreds of enlargements from the negative films onto photo paper. During many long nights I made the little (24 x 36 mm) b/w negatives as large, as dark, as bright, as soft, as hard, ...as I wanted, or as it was needed. I could also do dodging or burning (= abwedeln oder nachbelichten) or make a double exposure as the cover of LVE 16 shows: the face of Klaus plus a photo from a mixing desk.
. . . . And today, these images stick. If I look at the 16 covers of the LVE series, eleven are from original photos that I have made from Klaus since 1975; the most recent pic is on the front of LVE 13; it was made in my apartment, anno 1993, when Klaus signed a few hundred booklets for the early subscribers of the SILVER EDITION. Already over twenty years ago... Old times.
kdm, 09:54h
... link