Samstag, 17. Februar 2018
Ja, hier geht's schnell:
Circle-Mitglied Lutz schreibt mir:
"Zufällig sehe ich gerade, daß morgen abend (18.Februar) um 18:20 im Radio auf SWR 2 das Hörspiel "Doktor Faustus - Elektrisiert" produziert 1985 vom WDR mit Musik von Klaus Schulze & Rainer Bloss gesendet wird.
Ist zwar jetzt ziemlich kurzfristig, aber vielleicht ist es ja doch noch einen Hinweis auf der Website oder Deinem Blog wert."
.
Ist es, Lutz. Danke!
kdm, 11:06h
... link
Montag, 15. Januar 2018
Schulze Geschichte(n) ...
...gibt's unter dem Titel Wer Schulze heißt, muss was können. Die erstaunliche Schulze-Geschichte. Ich hab sie inzwischen erweitert auf 168 Seiten Din A4; sie ist gebunden wie "The Works" oder "The Essential...".
Hier unten kann man das Inhaltsverzeichnis sehen Die circa 110 Fotos sind dort natürlich nicht extra vermerkt; sie lockern aber den Text erläuternd auf.
.
The (slightly different) English version The Amazing KS Story is also available. It's in the same format as "The Works" and "The Essential...". THE AMAZING KS STORY has 150 pages and includes circa 100 pics to illustrate the four decades of KS.
.
Here's the index of the English version:
.. . . . . . .

Und hier das deutsche Inhaltsverzeichnis:
.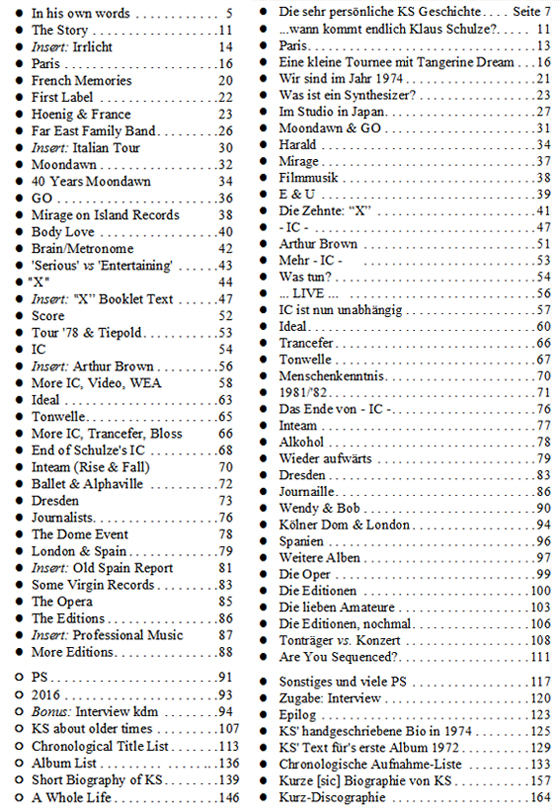 .
.
THE AMAZING KS STORY
The KS era, witnessed & co-shaped by kdm
These are the memories from all the years I have worked with KS, in the studio, the office, or on tour,
from the early seventies until the end of the millenium.
I had started to write it down in '86 and then - again and again - I added something...
Of course, I still work with Klaus. THE KS CIRCLE shows it, again & each month.
I want to point out that I avoid promotion stories.
You'll find no myths and no legends in the books, but many pics.
The simple truth was often exciting & amazing enough.

DIE ERSTAUNLICHE SCHULZE-GESCHICHTE
erzählt (natürlich) die gleiche Geschichte,
aber sie ist keine simple Übersetzung sondern wurde separat geschrieben.
Auch die etwa 100 Photos in beiden Bänden sind unterschiedlich.
.
.....

THE WORKS
is the complete discography (and much more) from the sixties until the day I send it to a user.
It was and is permanently updated.
At the moment it contains 794 records with the name of "KS" on it, including 150 samplers,
and 1731 titles, and 528 names, ...and all of it is indexed.
The main discography is chronological...
...and here is the "Table of Contents":
.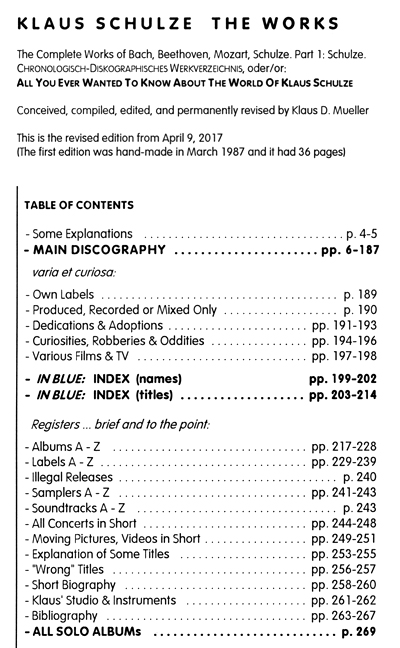 .
.....

THE KS CIRCLE
is a monthly newsletter (& much more), existing for 23 years now, month by months.
(click in "useful links" / "The KS Circle" here at the left).
And here is a pdf of issue 240: 22240

(pdf, 1,667 KB)




The three volumes of
THE ESSENCE OF THE KS CIRCLE ...
... is the best of the Circle's first twenty-two years (& ½) in three volumes.
It contains: thoughts, articles, letters, answers, quotations, reviews, discussions, many unusual pics, drawings, and other paraphernalia. Kluge, freche, absurde Bonmots über KS, die Musik und die Welt, in English & German (mixed) (and a bit of French, Italian, Spanish...if I quote from an original source).
no. 1 - 88 (1995 - 2003) 294 pages
no. 89 - 177 (2004 - 2011) 294 pages
no. 178 - 244 (2012 - 2017) 294 pages

.
- - - - -

All this is NOT to see or to read in the internet. Only on old-fashioned printed paper.
Size of these books: 21 x 30 cm (= 8.27 x 11,69 inches)
The monthly 'The KS Circle': is half this size: 15 x 21 cm
.
Each of these booklets is not free anymore, but it costs now...

.
THE WORKS ......... in Germany: 35 € | abroad: 40 €
The Essence...1 . . . in Germany: 35 € | abroad: 40 €
The Essence...2 . . . in Germany: 35 € | abroad: 40 €
The Essence...3 . . . in Germany: 35 € | abroad: 40 €
Amazing KS Story . .in Germany: 35 € | abroad: 40 €
Schulze-Geschichte. in Germany: 35 € | abroad: 40 €

Membership for 1 year in The KS Circle including the monthly newsletter cost also: 35 € / or 40 abroad.

The postage is always included
Just send a mail to: kdm AT posteo D0T de
and I will explain to you.
(sorry, but I don't send to the USA)
.
kdm, 11:52h
... link (0 Kommentare) ... comment
Donnerstag, 14. Dezember 2017
I have just heard the new album by KS!
kdm, 12:11h
... link (3 Kommentare) ... comment
Sonntag, 29. Oktober 2017
Mirage im Traum
Ich träumte heut' morgen, ich lege Schulzes MIRAGE LP von MIG (oder SPV, auf jeden Fall so'n Re-Release) auf, um den ersten, den "1984"-Untertitel zu prüfen, von dem mir Lennart gestern berichtet hatte: der Titel fand Verwendung in einer aktuellen 4-CD-Box: "Noise Reduction System" auf Cherry Red Records.
Und was höre ich (im sehr realistischen Traum)? Altmodische 70er-Jahre Rockmusik mit polnischem (?) Gesang. Hä? ich war verwirrt ...im Traum.

Daraufhin wachte ich auf – oh, schon drei nach 9! – sonst wach ich immer gegen 8 Uhr auf.

Beim Kaffeemachen kommt Julia in die Küche und sagt Ich hab schon die Uhren (in Küche und Wohnzimmer) umgestellt, eine Stunde zurück.

Ahhhh, das erklärt mein "spätes" Auswachen: Ende der Sommerzeit.

Aber es erklärt nicht das Anhören der MIRAGE-Vinyl mit polnischem 70er Jahre Rock.Und auch nicht die Erinnerung daran, denn ich erinnere so gut wie NIE meine wirren Träume.
kdm, 08:39h
... link (5 Kommentare) ... comment
Donnerstag, 3. August 2017
Für Klaus Schulze zum 4. August
.
.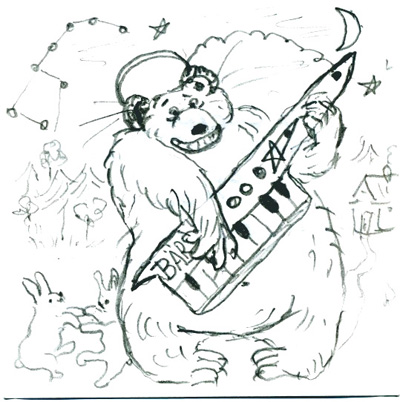 Der Bär hat einen kleinen Tick:
Er macht "Die Große Nacht Musik"
.
The bear's in love with his new tool
He plays it like a zany fool.
kdm, 23:53h
... link
Das Interview
Vor ein paar Wochen hatte ich wieder mal ein Interview vermittelt; beim anfragenden Journalisten hatte ich ein gutes Gefühl und es hat nicht getäuscht. Hier ist das Ergebnis.
kdm, 14:09h
... link (1 Kommentar) ... comment
Freitag, 14. Juli 2017
Already 18 years ago I mentioned in the detailed discography "The Works":
The use of the computer for creating – as well as storing and re-using – musical recordings makes it difficult for a compiler to collect accounts of such recordings for an accurate discography.
. . . . . Before, with tapes, it also was not easy, but now with the new technique it's a nightmare. Today, the results are not visible anymore, the new digital signal processing methods are 100% virtual; there are no tape boxes anymore on shelves, no touchable and visible 2-, 4-, 8-, 16-, or 24-track master tapes, but just plenty of Zeros and Ones on harddisks (or little sticks, or whatever). And worse: It's so very easy now to reuse or recycle this musical material. With the right software it's so simple to change the key of a piece, the speed, the rhythm, play it upside down, etc. and use the same or the altered piece (or parts of it) again for a "new" recording (hence the sudden fashion of "re-mixes", because, I repeat: it's so very easily done today).
. . . . . However, for an observer and compiler it's hard to keep tracks = which musical snippet was done when? changed when? by whom? and used where? and how often? This brings the artistry of serious discographical work not to an end, but ...
. . . . . I fear that it also makes the music more arbitrary (= beliebig) and worthless. By coincidence this is happening at the end of a century and maybe it also marks the end of an era. Not many of the younger people collect music anymore, as it was seriously done in the past with the old formats on DISCs: schellack, vinyl. What is left to report about for a DISCographer, are just the obvious final results, the released discs (or any other tangible, touchable & visible medium in the future) as long as those will be still offered and used.
kdm, 10:51h
... link (1 Kommentar) ... comment
Freitag, 17. März 2017
why index titles? (as for instance in complete opera recordings)
Mr. Mueller has put some clever subdivisions on numerous longer tracks in the set [and else]. Some people may think it's useless, but in my opinion it helps to understand the piece structure and helps to better remember some passages in it. For example, in "L'opera aperta", the "Scherzi a parte" section is a strong one, but distinctive from the other ones (it's also a favorite one!). We have the precise moment and duration with kdm's subtitles. I'm also more attentive when each section changes. Just take a look at your cd player! The song structure is sometimes complex, evolutive, etc. It's also a great reason why I prefer the Ultima Editions albums in comparison with KS regular albums. I remember the "Vie de rêve" structure more easily than the "Dune" one, just because of these subdivisions.
(from a longer article by Frederic Letourneau from Canada, in The KS Circle from October 2001, about THE ULTIMATE EDITION; most of this 50-CD set's music was later reissues in La Vie Electronique, vol. 1-16.
The subdivisions and its (sub-)titles are all mentioned in detail on the covers or in the booklets of the CDs and sets (and in THE WORKS), but - because of space - not in the Schulze website discography)
kdm, 18:07h
... link (1 Kommentar) ... comment
Donnerstag, 15. Dezember 2016
Prog
British PROG magazine has just released what they call "The Synth Issue!". There is also a pleasing article about the "true musical maverick" KS on pages 44 and 45, based on an interview that I had arranged two months earlier.
.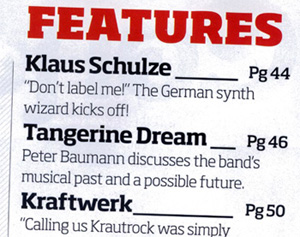 ... link
Montag, 28. November 2016
immer noch
Ab und zu bekomme ich solche Hinweise:

Hallo,
der nachstehende Blog bietet illegale Downloadlinks für Klaus Schulze Alben an: http://xxxxxx.net/?s=klaus+schulze
Mit freundlichen Grüßen
Oliver S.

Ich antworte dann jeweils ungefähr so:

Danke für den Hinweis. Du solltest das an die Plattenfirma schicken: info@mig-music.de Es sind deren Produkte, die illegal kopiert und angeboten werden.
Übrigens:
Die mitgeteilte Website ist leider nicht das einzige derartige illegal Angebot im Netz. Und es trifft nicht nur Klaus Schulze. Hier zum Beispiel gibt es ebenfalls alles mögliche: http://xxxxxx.se/music
...und neben der Musik auch Software, e-books, Computer-Spiele...
Wenn man dort nach "Klaus Schulze" sucht, kommt diese lange Liste mit download-Angeboten fast aller KS-Alben: https://xxxx.pw/Klaus-Schulze/post-406621.php
An diese Leute und Firmen kommt man so gut wie nie ran, die sitzen in bestimmten Ländern... Und in der Tat verlinken sie "nur" auf Filehoster, bei denen man die Musik dann (illegal) downloaden kann. Und an die kommt man noch schwerer ran.
Leider aber auch:
"Die Leute draußen" finden das doch alles ganz toll; manche Musikliebhaber (wg. Geiz) und viele Journalisten (wg. Ahnungslosigkeit) lieben kostenlose Musik.
Siehe z.B. YouTube: Die Rechte an den gezeigten Filmchen UND AN DER MUSIK hat Google/Youtube in der Regel ebenfalls nicht. Und wenn die Urheber (mit ihrer Vereinigung GEMA) oder die Musiker (mittels ihrer Plattenfirma) dagegen juristisch vorgehen, werden sie öffentlich als böse "Content-Industrie" niedergemacht, die "uns" "unsere" tolle Musik wegnehmen will. Nein! Der Musiker lebt nicht von der Musik, sondern von dem Geld, das er dafür bekommt.
(die Webadressen habe ich mittels xxxx anonymisiert)
kdm, 10:44h
... link (1 Kommentar) ... comment