Mittwoch, 8. August 2018
In a recent feature in the British magazine THE WIRE (September 2018 issue) Klaus Schulze is quoted:

"The media founded names such as 'Berliner Schule' many years after those events actually happened. And yes, there was this 'electronic music launch' in Berlin, and of course some shared characteristics. But that was not our 'movement' and there was no common doctrine or something like that. We just did what we did at the time. I still just do what I do. That's why I try to avoid using terms like this."

Also the rest of the feature about KS written by Phil Freeman is surprisingly readable (and I did not say that all too often about writers during those many years!).
kdm, 09:46h
... link
Samstag, 4. August 2018
(just a hint)
kdm, 10:43h
... link
Freitag, 13. Juli 2018
...also in the US of A
. .
(aka: 'Big in the Colonies')
"We only use his first name, the way you just call Miles Davis, Miles. In my world, everyone knows who you mean." ...said our old American friend the radio producer John Diliberto about Klaus Schulze.. . . John is still active, now in the internet, see here ...and just recently (starting at 06:40) here
kdm, 11:30h
... link
Montag, 18. Juni 2018
"...with an almost defiant beauty."
Glossy British PROG Magazine has in its recent issue a longer interview with KS and a one-page review of "Silhouettes".
kdm, 14:43h
... link
Sonntag, 3. Juni 2018
Aus einer älteren Circle-Ausgabe
Warum denken die Leute immer, dass KS bei jedem neuen Album das Rad neu erfinden muss? Das hat Klaus doch schon einmal getan, als er diese Musikrichtung erfunden bzw. geprägt hat.
(Issue 202)
kdm, 12:32h
... link
Freitag, 25. Mai 2018
Aktuelles sechs Minuten Interview
kdm, 16:21h
... link (1 Kommentar) ... comment
Montag, 21. Mai 2018
The very first:
"Silhouettes just arrived and I am listening :-)
Please say THANK YOU for KS.
Best regards,
Greg M., Warszawa"
PS:
"My first impression: Very nice relaxing music. I like it!"
kdm, 14:34h
... link
Sonntag, 29. April 2018
Exactly 25 years ago...
.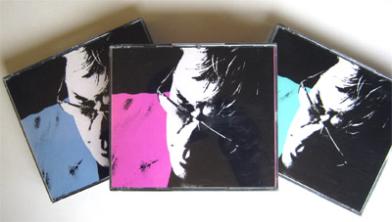 ... at the end of April 1993, I had finished the work for the first of our CD sets, SILVER EDITION, containing ten CDs with recent studio recordings of Klaus Schulze and a few older concert recordings. All previously unreleased.

Yep, at the end of April 1993 I had informed the press with an interest in this kind of music, which was at this time mostly the many e.m. fanzines in all corners of the world = I knew 58 different ones, from Agitasjon to Zenith. Also I informed a few hundred individual fans. I had many files filled with our collected letter exchanges; remember: this was a time without websites and mails. I had send them all a personal letter with the info about our SILVER EDITION offer. In some of the e.m. fanzines I also I booked (and paid for) a one-page advertising for SILVER EDITION. It was the very first time that in our genre such a set was released.

We have deliberately omitted the middlemen in this CD selling business: distributors and retailers. We delivered only to single people and to a handful of longtime friends who run a small 'private' mail order service (hello, Archie!). At this time we didn't know if our effort will be successful, if we will really find 2000 people willing to pay the circa 200 DM (100 € today) for such a special release. Luckily we were successful, even if the last - roughly one hundred - sets took a few weeks to find their customers... By the way: 85 copies of this set we have sent for free to journalists, some friends and a few musical collegues. Oh, I nearly forgot to mention: It was a huge success, critics and fans were thrilled !

Two years later I repeated this 10-CD set idea, this time with formerly unreleased historic recordings from Klaus Schulze's concerts or his studio, hence the title: HISTORIC EDITION. And another two years later I even produced a 25-CD set of unreleased music...

And now it's the 25th anniversary of SILVER EDITION.
.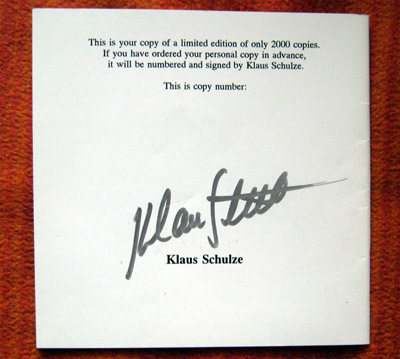 The back of the 48-pages booklet

kdm, 12:40h
... link (3 Kommentare) ... comment
Dienstag, 24. April 2018
Old already. But good.
I just have asked Lennart, to replace the current photo of Klaus (on the official website's opening page) with a better one, even if it's not new but according to our motto: "Alt schon. Aber gut."
kdm, 12:41h
... link (1 Kommentar) ... comment
Montag, 9. April 2018
Aus einer älteren 'Circle'-Ausgabe
Bereits vor 20 (?) Jahren erschien das "Handbuch der Rauschdrogen" im Nymphenburger Verlag und leider, wie so oft bei diesem Thema, scheinen die Autoren erstaunlich wenig Ahnung von dieser Szene zu haben. Im Jahr 1998 registrierte ich dies "Handbuch" in KLAUS SCHULZE - THE WORKS, Abteilung "Bibliography" (mit bis jetzt 280 Büchern, die KS erwähnen) mit diesem kurzen Eintrag:
HANDBUCH DER RAUSCHDROGEN, 7. Auflage, Schmidbauer/Scheidt (München 1998) p. 428 (Blödsinn)
.
Anno 2004 ist das Ding bei einem anderen Verlag (Fischer) neu aufgelegt worden. Und ist der "Blödsinn" nun weg? Nee. Lest selbst, nun auf Seite 411:
.



.
...und was haben Klaus Schultze (!) und sein Albumtitel CYBORG (resp. "Kyborg", man fasst es nicht!) mit Rauschdrogen zu tun? Gar nix. Cyborg ist ein inzwischen nicht ganz unbekanntes angelsächsisches Kunstwort in Wissenschaft & Hollywood Kintopp, gebildet aus "cybernetic" und "organism", also ein "künstlicher Organismus", ein Roboter und nix Drogen. Konsequent wäre es ja, hätten die Rauschdrogenfander "Küborg" geschrieben. Wennschondennschon!
(Danke an Circle-Mitglied Gerd für Foto & Hinweis)
kdm, 13:45h
... link (2 Kommentare) ... comment