Sonntag, 5. Januar 2020
Oldies But Goodies
Since the seventies we have some American friends and fans of Klaus, who were doing a radio program then; ...and they still do it. During the past 40 years they have regularly played his music.
Actually, in this week (from 3rd to the 9th of January), Klaus is again featured in their one-hour radio show "Hearts of Space"; you can listen to it here!
kdm, 07:34h
... link (1 Kommentar) ... comment
Sonntag, 29. Dezember 2019
The KS Circle
The first issue of the year 2020 will be posted on Monday the 30th of December ...at least to those who have renewed their membership.
kdm, 12:47h
... link
Montag, 25. November 2019
From "The KS Circle" # 218 ... (Nostalgic recollection, pt. 18)
... and I'm to blame
. . . . When I look from time to time into the (wonderful) booklets of the LA VIE ELECTRONIQUE CD series, I realize again and in retrospect that I was to a certain degree responsible for the visual image of Klaus Schulze, ...unconsciously and unintentionally.
. . . . Most of the many photos during the early heydays from 1975 on, and until 1981 (and a few beyond that year) were done by me, and they were also used by me, for the daily work with the other Klaus: for various releases on covers, for advertising and giving to magazines for their articles about KS. For many years I also have sent copies of these photos to fans, if they have asked for an autograph. During all those years and until the advent of the digital technique I have made those photos all by myself, in improvised dark-rooms, in Hambühren and later in Winsen; in the late eighties in Berlin. I produced hundreds of enlargements from the negative films onto photo paper. During many long nights I made the little (24 x 36 mm) b/w negatives as large, as dark, as bright, as soft, as hard, ...as I wanted, or as it was needed. I could also do dodging or burning (= abwedeln oder nachbelichten) or make a double exposure as the cover of LVE 16 shows: the face of Klaus plus a photo from a mixing desk.
. . . . And today, these images stick. If I look at the 16 covers of the LVE series, eleven are from original photos that I have made from Klaus since 1975; the most recent pic is on the front of LVE 13; it was made in my apartment, anno 1993, when Klaus signed a few hundred booklets for the early subscribers of the SILVER EDITION. Already over twenty years ago... Old times.
kdm, 09:54h
... link
Sonntag, 24. November 2019
2020
The members of THE KS CIRCLE will get the message in the coming December issue: Please renew your membership for the coming year 2020, ...if you want to continue to get the newsletter (and much more) in its 25th year of existing, month by month...

Newcomers are welcome. Please send me a mail to receive the (simple) conditions: kdm@posteo.de
A pdf sample of an older edition is here
kdm, 10:47h
... link
Freitag, 25. Oktober 2019
From "The KS Circle" # 206 ... (Nostalgic recollection, pt. 17)
"Man wird doch nicht Musiker, um sein Leben lang Schulze-Musik zu spielen!"
"Aber dazu wird doch kein Musiker gezwungen!"
"Und Klaus Schulze?"
kdm, 12:17h
... link
Mittwoch, 9. Oktober 2019
From "The KS Circle" # 4 ... (Nostalgic recollection, pt. 16)
. . . . American David M. C., MD, wrote me some nice memories from the early 70s: »There was almost no recognition of "Electronic Music" in the US press, at the time of its beginnings. The only source for information were album covers and word of mouth from other record buyers. The record store employees did not know where to stock the albums. Most simply filed them with the rest of the "Imports". A few had an "Electronic Music" section, which also contained the experiments of the university Electronic Music Ensembles. These albums were mostly dreadful, and confused the record buying public. I purchased Moondawn during the summer of '76 because I liked the album cover. In the years that followed it was rare to find an album review, or find an article about KS. I have waited almost twenty years for The KS Circle, and it is outstanding.«
. . . . (Thanks for mentioning the Moondawn cover. It was my very first try in doing covers. -kdm)
.
Source: The KS Circle from December 1995.
kdm, 09:51h
... link (0 Kommentare) ... comment
Donnerstag, 19. September 2019
The KS Circle 265
The October Circle was posted today. It includes, among other matters, issues & items:
Polyphony (only!) in music
Clara Mondshine
KS for Beginners (invitation to help)
Group name(s)
Horst Stern 1975 (KS soundtrack)
A Young Turk in Poland
A flyer from 1970
Vor 40 Jahren: Konzert Tournee Tagebuch (German)
PS:
The next (November) issue will have a long English translation of the concert tour diary.
kdm, 11:06h
... link
Dienstag, 27. August 2019
KS for beginners ...
...was an item which I wrote in December 1998 for the issue no.31 (January 1999) of "The KS Circle". Here is this very short descriptive list of Klaus Schulze's solo albums up to this date:

IRRLICHT Early organ drone experiments.
CYBORG (2 CDs) Further organ drone experiments. Heavy stuff.
PICTURE MUSIC For the first time KS uses "real" synthesizers.
BLACKDANCE If correctly mastered, a feast to the ears.
TIMEWIND Americans regard this as a "masterpiece", probably because it was for many years the only available album for them. Its "Bayreuth Return" was recorded on just a stereo tape & at one go.
MOONDAWN The first masterpiece in the typical Schulze style and in a much better sound than all the former albums. Try to get the original CD version on Manikin Records.
BODY LOVE The soundtrack for a hard core porno. Not bad. I mean the music.
MIRAGE A serious work. Tricky sequencers. The second masterpiece.
BODY LOVE 2 Additions to the (successful) soundtrack album.
"X" (2 CDs) Masterpiece number three.
DUNE Arthur Brown sings on the rhythmic track (lyrics are included). The other track can be called experimental ambient meets a masterfully played cello.
"...LIVE..." (2 CDs) Typical KS concerts from 1976 and '79.
DIG IT First fully digital recording. To the point. One track even has a jazzy note.
TRANCEFER Typical sequencer driven music from that period.
AUDENTITY (2 CDs) Partially avantgarde stuff.
ANGST (soundtrack) Sounds nice. Film was cut to the music (not vice versa as usual).
INTER*FACE Especially the three shorter tracks have a more or less straight rhythm.
DREAMS Beware of the British singer for the last ten minutes!
EN=TRANCE The long track "Fm Delight" is one of those typical "Schulze in the mood".
MIDITERRANEAN PADS The first album that shows a new beginning.
THE DRESDEN PERFORMANCE (live) (2 CDs) Three of the tracks are additional studio recordings.
BEYOND RECALL Sampling starts...
ROYAL FESTIVAL HALL Vol. 1 (live) Sampling goes on...
ROYAL FESTIVAL HALL Vol. 2 (live) ...and on.
THE DOME EVENT (live) A concert that is very enjoyable to listen on CD at home; also, it marks the peak of KS' sampling era.
SILVER EDITION (10 CDs) A risky but very successful attempt. Mostly new music.
LE MOULIN DE DAUDET (soundtrack) Typical short film soundtracks.
KLAUS SCHULZE GOES CLASSIC Simply: KS doesn't play KS.
TOTENTAG (opera) (2 CDs) Too much parlando and recitative in German.
DAS WAGNER DESASTER - LIVE - (2 CDs) A daring experiment: The same two concert recordings in two different mixes.
IN BLUE (2 CDs) Great with and without Manuel.
HISTORIC EDITION (10 CDs) Even more successful than "Silver Edition". Just historic concert & studio recordings.
ARE YOU SEQUENCED? (2 CDs) The first CD is a treat!
JUBILEE EDITION (25 CDs) 1947 minutes [!] of unreleased material (1970-'97) for KS' fiftieth birthday; all reactions show: the most successful of the three "Edition" sets.
DOSBURG ONLINE A mixture of studio & concert recording. Sadly, it was badly mastered. [KS was not happy with it, in November 1997]
kdm, 09:41h
... link
Donnerstag, 1. August 2019
24 years ago...
... the first issue of THE KS CIRCLE has been published. This was the intro:
.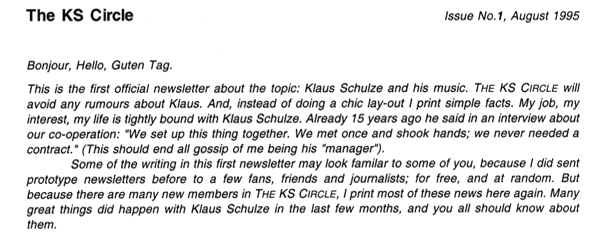 Since then I regularly fill and publish an issue every month. A table of contents of all - meanwhile 263 - issues can be found here.
By the way: The start of our official KS website was just one year later, on the 20th of August 1996.
kdm, 08:52h
... link (1 Kommentar) ... comment
Donnerstag, 25. Juli 2019
The KS Circle # 263
Eigentlich gibt's in den Sommermonaten Juli/August nur eine Ausgabe des THE KS CIRCLE, in anderen Worten: im August erscheint nix. Vor allem aus Urlaubsgründen, beim Schreiber wie bei den Lesern.
Anno 2008 und 2017 gab's aber doch & ausnahmsweise eine August-Ausgabe. Und auch in diesem Jahr wieder, sogar mit 16 Seiten; sie ging heute per Post an alle Abonnenten.
.
The KS Circle is published monthly, except in July/August, when there is only one issue for both months. Normally. This year there's (another) exception, the August edition was just posted, even with 16 pages.
kdm, 17:30h
... link