Donnerstag, 24. Mai 2018
Another Jubilee
The 250th issue of my monthly brochure will be posted today to the few handful worldwide followers, supporters, enthusiasts, friends and lovers of Klaus Schulze's music.
.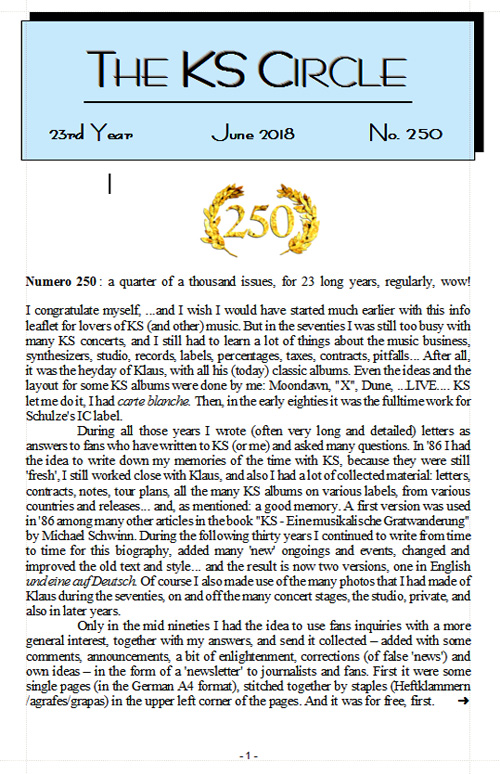 .
This edition's content on 12 pages:
250 issues, month by month
50 Jahre lang Berufsmusiker (in German)
43 years in Hambühren
25 years of Silver Edition
40-year-old recording by Robert Schröder
Kennerschaft vs. Unbefangenheit (in German)
kdm, 09:18h
... comment
yulchen, 24. Mai 2018, 19:29
Hip hip hurra!
... link
kdm, 24. Mai 2018, 21:07
Spasiba !
... link
kdm, 26. Mai 2018, 18:22
Am 23. Mai konnte ich im 'KS Circle' über den erstaunlichen Verkaufsrang von 'Silhouettes' bei Amazon berichten:
Nr. 1 in Ambient
Nr. 220 in CDs/Vinyl
Nr. 44 in Rock (!)
Nr. 111 in Pop (!!)
.
Jetzt - 26, Mai - sieht's dort sogar noch besser aus:
Nr. 1 in Ambient
Nr. 69 in CDs/Vinyl
Nr. 17 in Rock
Nr. 32 in Pop
... link