Montag, 21. Dezember 2020
KS
Marcin Burmiński, the Polish designer of the annual Xmas picture of Klaus Schulze just wrote me:

It feels incredibly great to look at your artwork on your website
I am the author of the graphics. It's probably been 15 years, or maybe more
It feels great to see it every year.
.
kdm, 09:06h
... link
Sonntag, 20. Dezember 2020
4.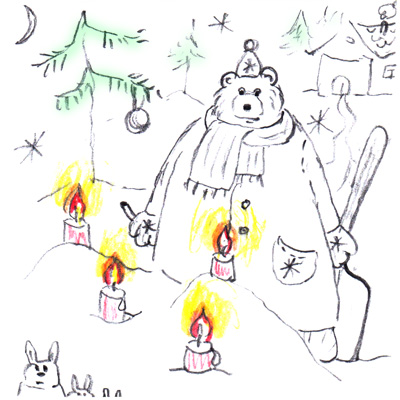 .
(as always the bear is drawn by Julia)
.
kdm, 11:22h
... link
Donnerstag, 17. Dezember 2020
From an older issue of "The KS Circle" ... (Nostalgic recollection, pt. 29)
... In art it's not so much "what" is done - but "how" it's done. The way of realization is important. Not the topic is important, but the artistic presentation.
. . . .It's the content, the substance that influences us. Which is only possible through form, and the impact is more intensive the more perfect the form is (in which it appears). "Form is the peak of contents" said Hebbel. The primacy of form was always inexplicable to the masses.
. . . .Artistic standards are purely of formal nature, hence how an artist shapes and manipulates, how he accomplishes atmosphere, how he creates tension and excitement, how he produces transitions, blendings, nuances and how he avoids the obvious...
. . . .In art, the "what" isn't so important because this was and is repeated many hundred times - it's the how, the form of the statement. In art, it's the mastership that counts, not declarations.
. . . ."It does not matter what you do, but how you do it." (Fats Waller)
.
(from The KS Circle # 21)
kdm, 11:35h
... link
Dienstag, 8. Dezember 2020
von Opa Klaus
kdm, 13:03h
... link
Sonntag, 6. Dezember 2020
2.
.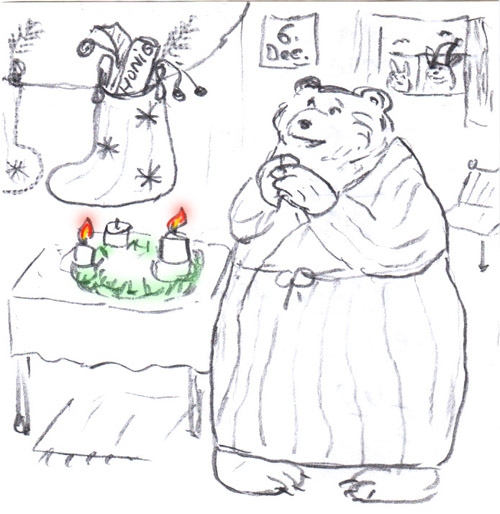 .
kdm, 10:04h
... link
Sonntag, 22. November 2020
Nostalgic recollection pt. 28
TEMPUS FUGIT
Die Erinnerung kam plötzlich wie aus heiterem (& herbstlichem) Himmel:
. . . .Die schönen, klassischen Orte Südfrankreichs in den siebziger Jahren (Toulon, Nimes, Montpellier, Narbonne, Avignon, Valence, Beziers, ...) bei warmem und sonnigem Frühlingswetter, mit gutem Essen, dazu vollen Konzerthallen mit enthusiastischem Publikum... Ja, es waren sehr schöne Zeiten für uns beide Kläuse, Schulze & Müller.
kdm, 20:12h
... link
Samstag, 21. November 2020
The KS Circle 2021
.
Vielen Dank an die Mitglieder, die ihre Mitgliedschaft für das nächste Jahr bereits erneuert haben.
.
Many thanks to the swift members who have already renewed their membership for next year.
.
Veel dank aan de snelle leden die hun lidmaatschap al hebben verlengd voor volgend jaar.
.
来年に向けて、すでに会員更新を済ませた早い会員の皆様、ありがとうございました。
.
Un grand merci aux membres rapides ...
.
Molte grazie ai soci veloci ...
.
Muchas gracias a los miembros rápidos ...
.
Bardzo dziękuję szybkim członkom ...
.
... ... ...
kdm, 09:27h
... link