Samstag, 20. August 2016
Twenty Years Anniversary
Our "official" Klaus Schulze website was set online for the first time on the 20th of August 1996. We don't have a screenshot from these first days or weeks, but we have one that visitor numero One Million has made and kindly sent us eight years ago:
.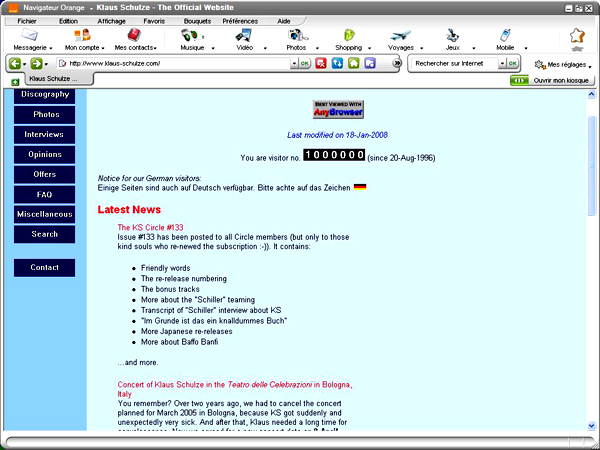 .
After 20 years with more than two million visitors, we have now deleted the counter, for technical reasons.

A friendly request to all the designers and wannebe designers who offer their "help": No, we don't want to "make the site more fashionable"; our intention was and is to offer (plenty of) facts for those who search for facts about KS and his music. Gadgets, gimmicks and diversion are not our metier. Not ev'rything that is possible must also be done. The world (& the www) is already full of needless crap, and we don't want to add more of the same kind. If you use an ad blocker and/or Ghostery, you may have already noticed that there is nothing on our KS website that makes these (otherwise very helpful) tools necessary.

My sincere thanks go to Lennart Koschella, who is editing the site technically from the very beginning, and still ...because he likes the music of Klaus Schulze. Yes, he's doing it beside his daily work. See also his informative anniversary text in the official KS website: "No rumours, no gossip, no bling-bling, just facts and information."
kdm, 09:29h
... link