Freitag, 7. November 2014
any help?
For the last 30 years I try to find this riddle's solution. This rebus was published in the literary book series DER RABE (The Raven, issue no 4) in 1983 and they ask: "The purely literary RAVEN puzzle. What basic sentence of the new literature is symbolized in this drawing? Solution in the next edition of DER RABE."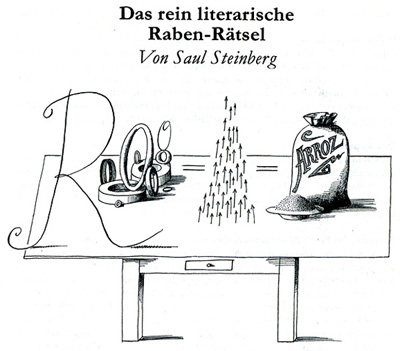 .

"Welcher grundlegende Satz der neuen Literatur versinnbildlicht diese Zeichnung?"
.
But in the next edition was just printed (I translate again:) "Because the riddle was so easy, we don't give the solution". Oops! And any following edition (up to no # 61 in 2002 when Swiss Haffmans closed down) didn't mention a word about this rebus. Also a search for Saul Steinberg showed many many drawings, but not this rebus. I even own books from him (I'm a fan), so he was not unknown to me. But the above...?
For 30 years I wonder... I even asked an expert recently, and he told me: the whole was maybe just a joke to fool the readers, the publisher (Haffmans) and his authors liked to do these things. Could be.
.
Any help? Sorry, I don't even know if the rebus' solution is in German or English, (...or Spanish? note the 'Arroz" = rice/Reis)
PS:
The riddle is no more a riddle, see comments
kdm, 10:57h
... link (2 Kommentare) ... comment