Dienstag, 26. Juni 2018
The KS Circle #251
Issue #251 - the 'summer edition' - was posted today to all Circle members.
It contains:
Many reactions to 'Silhouettes'
Memories from 1976
Handwerk vs. 'Werk' (in Deutsch)
A historic photo
this & that
kdm, 12:43h
... link
Donnerstag, 24. Mai 2018
Another Jubilee
The 250th issue of my monthly brochure will be posted today to the few handful worldwide followers, supporters, enthusiasts, friends and lovers of Klaus Schulze's music.
.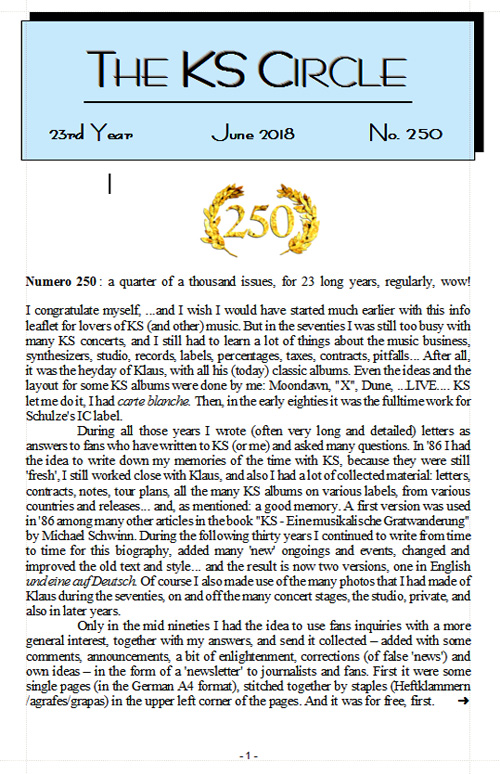 .
This edition's content on 12 pages:
250 issues, month by month
50 Jahre lang Berufsmusiker (in German)
43 years in Hambühren
25 years of Silver Edition
40-year-old recording by Robert Schröder
Kennerschaft vs. Unbefangenheit (in German)
kdm, 09:18h
... link (3 Kommentare) ... comment
Freitag, 26. Mai 2017
... happens.
The new Circle, the June edition (# 238), is posted. When all copies were printed, Julia discovered promptly the first typo (on page 8): it should be "Klaus doesn't..." and not "Klaus don't..." :-)
I could correct it only for the pdf version.
kdm, 12:40h
... link (2 Kommentare) ... comment
Freitag, 3. Februar 2017
The KS Circle
Nine pages of the March edition of "The KS Circle" are already written, ...and in November/December last year I was afraid that the themes, topics, ideas would go out because of the musical inactivity of KS.
Also I went carefully through the two volumes of "The Essence of the KS Circle", and deleted some typos. And I have thrown out a lot of smileys; in a single issue of the Circle some of these :-) are okay, but in the 2 x 300 pages they were just too many. Afterward I read again the particular sentence and realised that the meaning (& the fun) is still the same, even without a helpful(?) clue of an emoticon.
kdm, 12:48h
... link
Mittwoch, 18. November 2015
Dear Steve from the UK:
Among today's post was this "letter".
.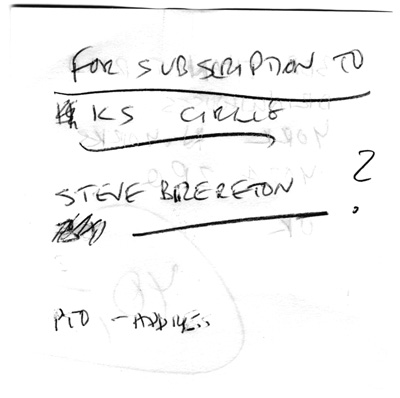 .
Sadly, I can neither decipher your full name ...ERETON, nor your full address somewhere in YORKS on the back of this little piece of paper.
Please, Steve, give me your full name and your address in a way I can read it; make it here in a comment, or with e-mail, or else. Otherwise I cannot address correctly the envelopes with the monthly "The KS Circle" - and the free CD-R - for you.
PS: You seem to be a new member because there is one "Steve" among the known members from the UK, but his surname is very different.
PS: Today - 10 December - I got his address.
kdm, 12:32h
... link (3 Kommentare) ... comment
Samstag, 31. Oktober 2015
I think about ...
...if I use a long track from a historic 1975 Paris concert recording at Maison de la Mutualité, or a title in similar length recorded at the concert 1983 in Berlin's Passionskirche ...
...for this year's free bonus CD-R that will come with the renewal of the membership in "The KS Circle", and if the member asks for it especially. As in former years, this special CD will be a strictly limited edition and only for non-commercial use on phonographs in homes and not for sale, ...as I described the previous gift, whimsically.
kdm, 19:38h
... link (5 Kommentare) ... comment
Donnerstag, 2. Januar 2014
Another Jubilee Edition
Issue 200 of "The KS Circle" was just posted.
... link
Freitag, 25. Oktober 2013
The November Circle
"The KS Circle" no.198 will be posted tomorrow. It contains:
Out of print?
Look First! & Flöhe husten?
Leserlob
Our Music Enters the Museum ("Old Times")
This Month' Answer to Davide
90% crap?
A 'canon' of E.M.
Warum klagen so viele...?
An Unknown Photo
...and more
... link
Mittwoch, 26. Mai 2010
new
The PC is here again and the whole day I tried to put my "old" programmes and files on the new harddisk; mostly I was succsessful (or just lucky).
Not yet working: My beloved text programme "WordPerfect 12" (for The KS Circle, which should be written, printed & posted in the next few days) and "Photoshop CS" (not quite so important) ... because both do not accept my six years' old serial numbers/codes.
Of course I can use Microsoft's "Word" for doing the "Circle" (it is waiting for me on the harddisk), but I'm used to & I love WordPerfect, 'cause I use it since 1992 and know it throughoutly.
PS: Thanks to Julia, I have now WordPerfect again.
... link