Dienstag, 4. September 2018
Noch mehr historisches ... (Nostalgic recollection, pt. 5)
1979, als Michael Shrieve bei KS im Studio war, brachte Mike ihm bei, wie ein wirklich guter Rhythmus sein sollte: man muss dazu gehen können, man muss dazu normal atmen und sich wohlfühlen können. Der Rhythmus darf uns nicht bremsen, aber auch nicht hetzen, er muss mit dem Körper übereinstimmen, muss dem Rhythmus des Körpers angepasst sein, also organisch klingen und sein. Michael Shrieve lief tatsächlich mit KS im Arm im Studio hin und her, bis der Rhythmus vom Sequenzer "stimmte".
(aus: The KS Circle # 155, Dezember 2009)
kdm, 11:29h
... link (2 Kommentare) ... comment
Montag, 23. Juli 2018
Nostalgic recollection, pt. 2
Ab und zu berichte ich im 'The KS Circle' über Fragen und Bemerkungen, die Fans mir zusenden. Dies hier, diesmal in Deutsch (der Circle ist zweisprachig) war ebenfalls in Ausgabe 10 aus dem Jahr 1996. Es ging um mein Zitieren von Texten besonders ahnungsbefreiter Musik-Journalisten. Ein Leser fand das notwendig und toll, da er das aber etwas falsch einordnete, klärte ich ihn auf; hier ist ein Auszug aus meiner Antwort:

"Sehr sarkastischer Humor" ? Nee, nee, mein Lieber. Du weißt nicht, was Sarkasmus heißt, und wo die Grenzen liegen zwischen Humor, Satire, Ironie, Persiflage, Parodie, Witz, Zynismus, Hohn... und lebensnotwendiger Selbstverteidigung, um nicht irre an dieser Welt zu werden und Amok zu laufen. Schulze hat ja seine Musik...

Wer ein wenig in der einschlägigen Kunst, vor allem der Literatur, Bescheid weiß, Henscheid und Gernhardt kennt und liebt, wer vielleicht mit "Pardon" großgeworden ist, Spike Milligan nicht verachtet, bei Monty Python keineswegs nur schenkel-klopfend ablacht, wer Karl Kraus verinnerlicht hat, aber auch Max Goldt, Harry Rowohlt oder Joseph von Westphalen durchaus mit Freuden goutiert, nicht zu vergessen: Stephen Fry, wer also nicht mehr anders kann als die Dummheiten dieser Welt zu bemerken & aufzuspießen (wenn man denn Gelegenheit dazu hat), dem sollte man nicht bloß "sarkastischen Humor" vorwerfen oder lobend um die Ohren hauen. Es ist mehr. Nämlich Lebensmittel. Überlebensmittel.

Das dazu.
kdm, 16:24h
... link (1 Kommentar) ... comment
Nostalgic recollection, pt. 1
In issue # 10 of 'The KS Circle' from autumn 1996 I have announced the start of "The Official KS Website" :

Honourable [KS Circle] member Lennart helped me to enter the internet. What he told me makes sense, as usual. There are various mailing lists, web pages etc. in the net, that also report from time to time about KS. Their content is taken from The Works, from our newsletters, and some of it is just gossip, hearsay or guesswork. To stop such rumors about KS in this new media, it is the best, to use this media and to make our own official Klaus Schulze "homepage".

Right. And as simple as that. We do it. Our homepage will contain plenty of bare facts about Klaus Schulze, past and present, such as a short discography of all CDs and of available CDs. Then we will give all news about any new album and when and where it will be available, about coming concerts (if there are some), maybe hints at articles in the international music press, and of course hints at The Works, our The KS Circle, Schulze's coming birthday, and many other practical things.

Since 20 August 1996 you can reach the Klaus Schulze homepage under:
HTTP://OURWORLD.COMPUSERVE.COM/HOMEPAGES/LK13/KS.HTM

PS: for quite same years now it's https://klaus-schulze.com
kdm, 16:11h
... link
Dienstag, 26. Juni 2018
The KS Circle #251
Issue #251 - the 'summer edition' - was posted today to all Circle members.
It contains:
Many reactions to 'Silhouettes'
Memories from 1976
Handwerk vs. 'Werk' (in Deutsch)
A historic photo
this & that
kdm, 12:43h
... link
Donnerstag, 24. Mai 2018
Another Jubilee
The 250th issue of my monthly brochure will be posted today to the few handful worldwide followers, supporters, enthusiasts, friends and lovers of Klaus Schulze's music.
.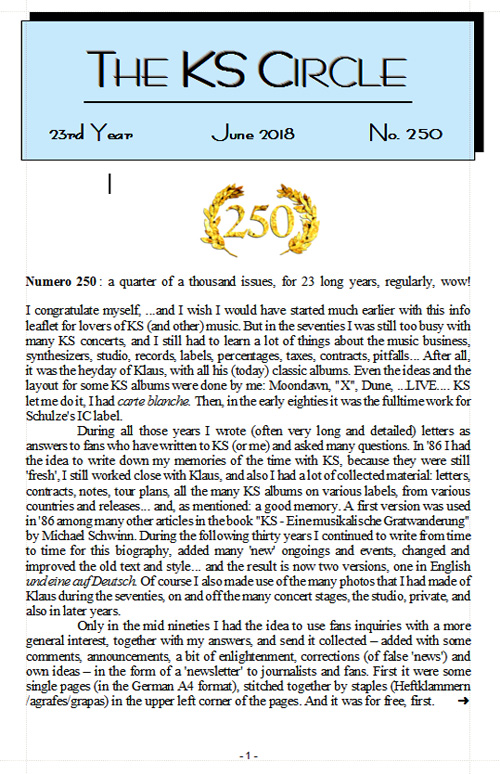 .
This edition's content on 12 pages:
250 issues, month by month
50 Jahre lang Berufsmusiker (in German)
43 years in Hambühren
25 years of Silver Edition
40-year-old recording by Robert Schröder
Kennerschaft vs. Unbefangenheit (in German)
kdm, 09:18h
... link (3 Kommentare) ... comment
Freitag, 26. Mai 2017
... happens.
The new Circle, the June edition (# 238), is posted. When all copies were printed, Julia discovered promptly the first typo (on page 8): it should be "Klaus doesn't..." and not "Klaus don't..." :-)
I could correct it only for the pdf version.
kdm, 12:40h
... link (2 Kommentare) ... comment
Freitag, 3. Februar 2017
The KS Circle
Nine pages of the March edition of "The KS Circle" are already written, ...and in November/December last year I was afraid that the themes, topics, ideas would go out because of the musical inactivity of KS.
Also I went carefully through the two volumes of "The Essence of the KS Circle", and deleted some typos. And I have thrown out a lot of smileys; in a single issue of the Circle some of these :-) are okay, but in the 2 x 300 pages they were just too many. Afterward I read again the particular sentence and realised that the meaning (& the fun) is still the same, even without a helpful(?) clue of an emoticon.
kdm, 12:48h
... link
Mittwoch, 18. November 2015
Dear Steve from the UK:
Among today's post was this "letter".
.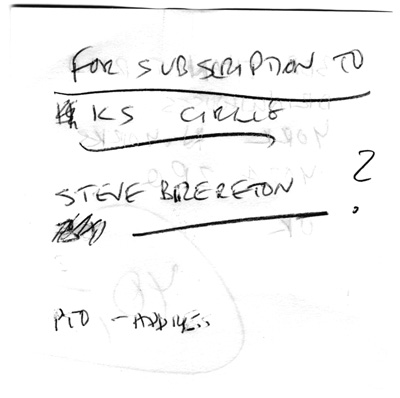 .
Sadly, I can neither decipher your full name ...ERETON, nor your full address somewhere in YORKS on the back of this little piece of paper.
Please, Steve, give me your full name and your address in a way I can read it; make it here in a comment, or with e-mail, or else. Otherwise I cannot address correctly the envelopes with the monthly "The KS Circle" - and the free CD-R - for you.
PS: You seem to be a new member because there is one "Steve" among the known members from the UK, but his surname is very different.
PS: Today - 10 December - I got his address.
kdm, 12:32h
... link (3 Kommentare) ... comment
Samstag, 31. Oktober 2015
I think about ...
...if I use a long track from a historic 1975 Paris concert recording at Maison de la Mutualité, or a title in similar length recorded at the concert 1983 in Berlin's Passionskirche ...
...for this year's free bonus CD-R that will come with the renewal of the membership in "The KS Circle", and if the member asks for it especially. As in former years, this special CD will be a strictly limited edition and only for non-commercial use on phonographs in homes and not for sale, ...as I described the previous gift, whimsically.
kdm, 19:38h
... link (5 Kommentare) ... comment
Donnerstag, 2. Januar 2014
Another Jubilee Edition
Issue 200 of "The KS Circle" was just posted.
... link