Sonntag, 30. Juni 2019
From "The KS Circle" # 144 ... (Nostalgic recollection, pt. 15)
.
The concert in Berlin on the 12th of November 2008 (spontaneously remembered)
I think it was the first time in my long career with KS that I was not backstage but only "a simple visitor" of his concert, sitting among the other 999 in the beautiful "Schiller Theater" here in Berlin. I had free tickets for me and my wife Julia, and also I could get some additional free tickets for some friends ...and for my son. For him it was the very first Schulze concert; he is 19 and listens to Heavy Metal.
. . . . An unwanted "supporting group" played some soft "Trance-Pop" music with English singing and with an English announcement. Not just I found this a bit strange: German musicians speak to a German audience in English. Sadly, this programme item took a bit of the usual tension and surprise, when the heavy red curtain is raised and Schulze with equipment is seen in full light, alone on stage.
. . . . Instead, for the next 40 minutes we could look already at Schulze's "fortress" which was completely set up behind the four "supporting" musicians, and also we saw already most of the coming lightshow tricks, including the permanent results of a fog machine, and from time to time we saw a head behind Schulze's "fortress", probably a technican making the fog machine work. And we had to listen to some nice but (honestly:) boring music. A music that doesn't hurt. The female singer was without soul or stage presence. But the audience was polite to them. (After the show, in the restaurant, nobody mentioned this group).
. . . . In the audience were surprisingly many women. From the Loreley concert someone had told me what he had noticed: the men's toilets were always crowded with a long waiting queue, and the ladies' always empty, nothing. The old story: no women have interest for E.M. And now here in that beautiful theatre, I see so many ladies. But, I have to admit, that most were the well dressed and souped-up companionship of a man. Or did they come to see the famous singer?
. . . . After a pause, at 21:00, came the real concert: Klaus Schulze. This time with the red curtain going up. He was sitting already in the middle of his empire and started to play without saying "hello" or something. The sound was clear and (I was so lucky about it:) not too loud. Klaus did his usual stuff the people love him for: A long soft intro, then the tricky sequencer rhythm cames in, and then he plays his usual (should I say: 5-note?) solo on this and that or on the other keybord. The Minimoog was a bit capricious during this evening, but there were enough other keyboards at hand, I counted five or six, plus the EMS case. And at his back, probably just for our eyes (We, the viewers, love it!), stood the usual "Wall" since the Big Moog isn't anymore. This typical Schulze concert piece of music lasted for the typical 40 minutes of most Schulze concerts. Julia said, for her it was only 15 minutes. But I am the owner of a wristwatch.
. . . . Klaus stood up from his black executive chair, walked to one of the two microphones and talked to us in his usual way, which is as if he speaks to a couple of old friends. As always, the audience loved him for this unaffected speech. Of course, Klaus spoke in German. He thanked the audience for not babbling (quatschen) through the softer parts of the music, as the public did during the Loreley concert. Of course he announed Lisa for the second part, and then he went off stage for a pause.
. . . . After 20 minutes intermission the audience came back from the bar or toilettes or foyer, often with a glas or a bottle in their hands, which doesn't really fit to the look or should I say: charisma of the classic "Schiller Theater". But many people took it as a "pop" concert and they behaved like that. No criticism.
. . . . Schulze started again to play, and Lisa entered the stage. Certainly, many came because of her (we have to face it: she is more famous than KS), and she received of course a warm and huge welcome applause. Together they did one (shorter) piece. After that (and another short speech of Klaus? I forgot) both started another "song". Mind: it was all more or less improvised, Lisa's singing as well as Klaus' playing; except that in the afternoon rehearsal they both cared very much for a precisely good sound. This second "Lisa piece" was much longer, and much louder (!). For my old ears and taste it was partly too loud, and I was not sitting in front of the speakers but in the back, on the balcony. Friend Peter and others had told me that Klaus was musically a bit in the background at the Loreley concert and he let Lisa dominate. Here in Berlin this was not the case; partially he was very dominant and loud, especially in the bass region. This partly heavy piece with a very diversified (abwechslungsreich) singing Lisa - from softly to expressively loud - ended after circa 40 minutes. After the deserved applause both left the stage, with the meaning: end of concert.
. . . . Of course, and as usual not just in KS concerts, they came back for an encore. First Klaus alone, making a short speech again, thanking, and asking (as at Loreley, as Klaus did not forget to mention) what the people prefer to hear: Lisa? or him doing some sequencer stuff? (Has he ever thought what an affront it would mean for Lisa if the audience would call for "sequencer"?). Of course, and as expected, people shouted "Lisa" and she came and joined him on stage.
. . . . Again their playing was completely improvised, as Klaus told me later. Lisa started the piece and defined the mood. Klaus held back first, trying this or that single key with one finger. Accidently he found a nice new sound on one of his keybords and started to accompany Lisa now with the sound of a plugged guitar, played with a tricky rhythm. After a while, means: near the end, he got faster and faster, until a sudden finish. It worked.

After the concert we saw the usual crowd of circa 50 people in front of the stage. This was now taken by technicians and stagehands, to tear down the lights, cables, speakers, cases... watched by the traditional technic freaks among the fans who took photos of Klaus' equipment, but the majority were fans hoping for KS coming back to sign their CDs, booklets, old LPs, posters, or just their tickets.
. . . . I was looking for our long-time technician Fredi to say "hello" but couldn't spot him among the circa ten workers on stage. Meanwhile Klaus came, sat down at the edge of the stage, doing some smalltalk to the folks, giving all the autographs, and then I saw Fredi at the back of the stalls, where he disconnected the mixer. Hello, Fredi!
. . . . Meanwhile Julia had given KS a bag full of "marzipan potatoes" and Klaus was wondering that some fan didn't want an autograph but knew about his liking of these typical Xmas sweeties. He didn't recognize Julia at once, because she had visited a coiffeur ten hours earlier that day. So she gave him a little hint: "it's from Ka-De-Em". Ahhhh, now he recognized her, and meanwhile I was also in sight. We went on stage, and with Klaus we walked to his garderobe. Von Deylen ("Schiller") was also present, and people from the record company, and an old friend, and Lisa with two male secretaries, and we all went to a little pub & restaurant around the corner, the (as it turned out: very cosy and good) "Schiller-Klause". We ordered beer, Lisa some mineral water, her secretaries some Schnitzel with pommes frites.
. . . . Klaus and Lisa had to wait and kill time until all the equipment was back in the truck and all and everyone was ready for the Autobahn trip to Poland. The artists & whole crew had a "Nightliner" with beds, etc. For Lisa these small beds looked like "coffins", she said jokingly.
. . . . Klaus talked with friends about old times: I had invited Katrin, the daughter of Klaus' girlfriend during the early seventies, and now they see each other again after 33 years - the last time she was 15 years old - which brought many funny and emotional memories and long forgotten stories from Berlin and Hambühren and from our little North Italy concert tour. My wife Julia found a new girlfriend in Lisa; they even exchanged their mail addresses ("But don't spread it around, it's strictly private"). When someone asked Lisa who's that young girl beside her she told: It's my daughter, my spiritual daughter. Yes, both of them got along beautifully, because they have the same love for poems and other romantic stuff. (Sorry for "stuff". I also love Eichendorff, Goethe, and M. Claudius...). When Lisa went to order some more mineral water she asked in the round: anyone else wants something? ...and I ordered another beer. I told her that I want a "Köpi" (Königs-Pils). Thus she learned this new German word, by repeating it a few times: Koe-Pee, koe-pee.... And indeed I got my Kö-Pi, served by the worldwide super star, the famous singer Lisa Gerrard :-) We also did many photos. KS with Julia, KS with Katrin, Lisa with Julia, and me laying my head on the other Klaus' wide shoulder. Jokingly. We all were in a light mood. Also I spoke with someone from the record label. They wanted urgently some arguments, some keywords, some slogans (mostly for the naive buying agents) for the ULTIMATE EDITION, which will start to come out in early 2009.

Time to leave the place. Klaus and Lisa must hurry to join the crew in the "Nightliner" en route to Warsaw, and we tried to catch the Berlin S-Bahn (kind of a subway), but of course it was too late and we had to take a taxi home.
. . . . Today, just an hour ago, I wrote down some "keywords" to promote the ULTIMATE EDITION. Now I just have to find out the name of that man from the record company, to send him my ideas, together with print-out of my old collections of "Reactions to Historic Edition", "Reactions to Jubilee Edition", and "Reactions to The Ultimate Edition" to let him know what to expect and what the fans have thought about the sets and its music.
. . . . And on Friday I will meet KS again, because after Warsaw he will be in Berlin for another two days. Business. (PS: He only stayed 1 day, he was too tired).
.
(
PS 2019:
Der Artikel entstand vor einundzwanzig Jahren)
.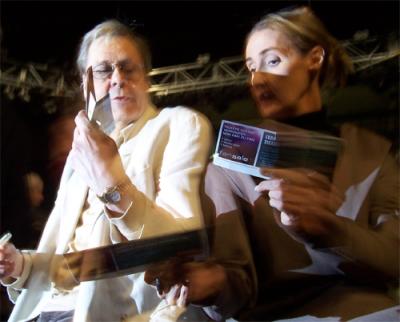 .
After concert, giving autographs on stage
kdm, 07:57h