Donnerstag, 24. September 2015
The KS Circle with a surprise announcement
The October Circle was posted toay to all members worldwide. On its last page the readers will find a surprising message: There will a a final concert by Klaus Schulze, even if - five years ago - Klaus had announced that there will be no further concerts. There will be. One. In Poland.
Yes, even as KS has announded in 2010: No concerts anymore, a final concert is planned, in Poland, but only for next year, on the 9th of June 2016, in Szczecin, which is for Germans the old "Stettin" which is a seaport city at the Baltic Sea (Ostsee), at the water mouth (Mündung) of the Oder River, 150 kilometers north-east of Berlin. The first & early announcements in Poland still give the 8th of June, but the current status is: the concert will be on Thursday, June the 9th, at seven in the evening (19:00).

The concert will take place in the Szczecin Philharmonic, and for tickets or info we can only draw your attention to: the website of the Philharmony.
.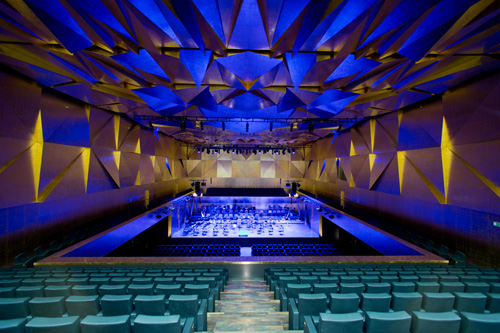 (large)
.
Two days ago a first announcement was in the Polish press, and today a Polish member of "The KS Circle" has kindly informed me:
"... I just booked my ticket!!! :-) I have to pay within 48hrs. One third of seats are already booked! So very soon concert will be sold out :-) Szczecin is only ca.2 hours from Berlin but Warsaw is 6 hours by train. I am sure more audience will be from Europe not from Poland. Best regards, Greg"
.
PS:
Auf der Hauptseite kann man auf die deutsche oder englische Fahne klicken, dann gibt's die Site auch in Deutsch oder Englisch. Oder (das zu finden ist wirklich nicht ganz einfach): hier
For English readers: click on the British flag on the Polish website and you will get the site in English (or not. Then try this).
For questions about tickets you can mail - English or German - to: kasa@filharmonia.szczecin.pl
kdm, 12:13h
... comment
kazzo, 24. September 2015, 22:07
Nun, ich habe mich gestern bereits durch den langen, komplizierten Bestellvorgang gekämpft und ein Ticket gekauft...auf dem aber der 08.06.2016 als Datum angegeben ist!!!

Ich hoffe doch, ich komme dann trotzdem damit rein am 09.06....?
... link
kdm, 24. September 2015, 22:17
Don't worry. Der Veranstalter aus Polen hat mir mitgeteilt:
"we will change the date of the concert on our website - hope today. Some tickets are already sold - but online selling give us possibillity to inform all the people about the change of the concert date."
... link
der quenker, 28. September 2015, 17:18
Das sind ja wirklich tolle Neuigkeiten - natürlich das Konzert an sich, aber auch darüber hinaus daß man daraus wohl folgern darf, daß Klaus sich gesundheitlich so wohl befindet, daß ein solches Event doch wieder möglich wird!

Ich habe mir ebenfalls schon ein Ticket gesichert und werde nun wohl mehr als ein halbes Jahr lang die Daumen drücken, daß das Konzert wie geplant wird stattfinden können...

P.S. Natürlich nährt diese Ankündigung auch die leise Hoffnung, daß dann auch noch weitere Konzerte möglich wären... ;-)
... link
kdm, 30. September 2015, 21:58
Gesundheitlich seh ich da zur Zeit kein Problem, es sind aber noch einige Monate bis zum Juni. Nur warte ich immer noch auf den Vertrag für das Konzert ...obwohl die polnischen Freunde schon fleißig Tickets verkaufen. Wenn im Vertrag nix unvereinbares drinstehen wird, gibt's natürlich auch da keine Hindernisse.
Weitere Konzerte wird es aber wohl nicht geben. Es sei denn... aber da müsste schon was sehr tolles, außergewöhnliches, exquisites, sehr gut dotiertes...
... link