Dienstag, 15. Januar 2013
The Essence of The KS Circle, Volume 2
I have just finished the work on the second volume of THE ESSENCE OF THE KS CIRCLE. This second volume has also 294 pages (and weighs 800 gram), same as Volume One.
Vol. 2 includes "the best of" our monthly newsletter from issues no 89 to no 177, from January 2004 to December 2011.
A copy cost the same as Vol. 1 = 30 Euros inside Germany, 40 € abroad; this includes the postage.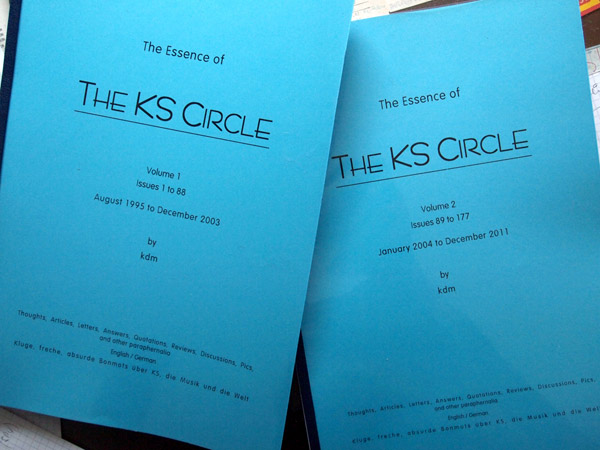 Contents: The BEST OF from nearly 3000 original pages: 588 pages full of articles, letters, answers, quotations, reviews, discussions, pics, and other paraphernalia in English or German.
Inhalt: Lehrreiche, freche, köstliche, kuriose Bonmots & viel Wissenswertes und Nachdenkliches über KS, die Musik und die Welt.
... comment
yulchen, 16. Januar 2013, 21:37
Bravo! (bin stolz auf dich)
... link